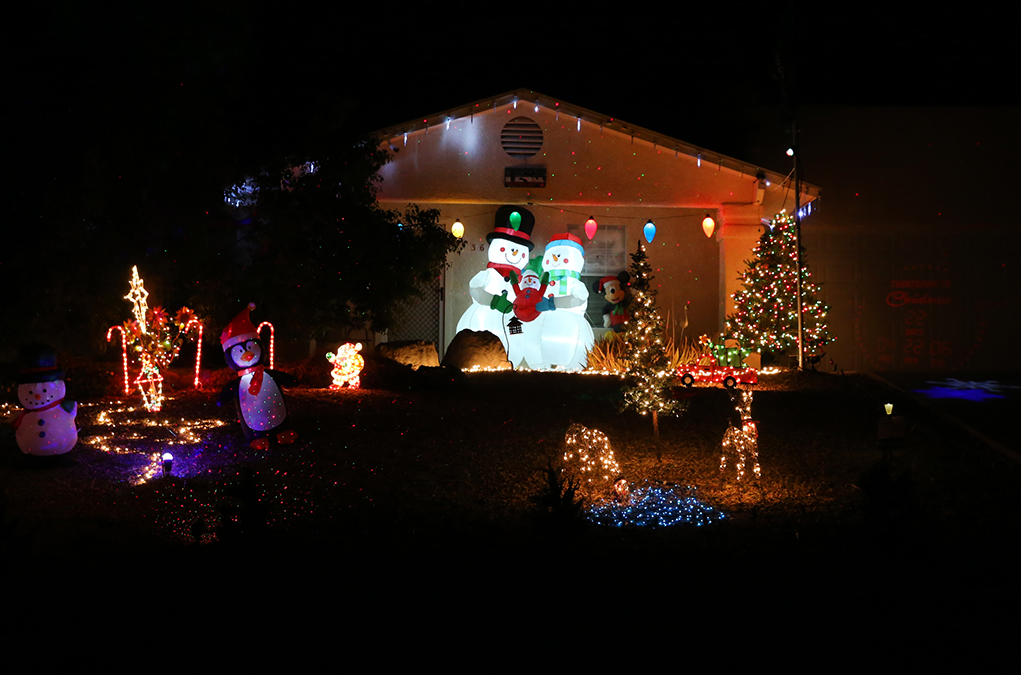 Lights of Havasu List
Countdown Until Christmas
During the hustle and bustle of the holiday season, taking a moment to enjoy the fruits of labor of those who decorate their houses for the enjoyment of others takes some of the stress away and adds to the joy of Christmas.
Following is RiverScene Magazine's guide to enjoying the Christmas Lights of Lake Havasu City.
If you would like to add your home to our list, please email your name, address and cross street to info@riverscenemagazine.com
Human Bean locations at 633 Lake Havasu City North, 1736 McCulloch Blvd., S. and 2035 Palo Verde Blvd., N., is offering $1 small hot chocolate on weekends to those showing the RiverScene map on their phones.
The Human Bean will be offering the $1 hot chocolate to RSM fans on the following days/times: Friday and Saturday, December 8-9 , 5pm-8pm, December 14-16 5pm-8pm, and December 21-23, 5pm-8pm.
*1001 Desert Cove Dr
Cross street Palo Verde N.
Benthagan Family
3621 Bluegill Drive
"Baily's Wonderland"
Cross street Pueblo Drive
Chris Boyd
2773 Inverness Drive
Cross street is Glengarry Drive
" Winterness on Inverness "
"Christmas Sparkles"
3160 El Dorado Ave N.
Cross street Bermuda
Alex Dennen Family
3099 Saratoga Ave.
nearest cross street Ranchero Dr.
Ryan and Nikki Erickson
3334 Thunderbird
"The Grinch is Up to No Good"
Frantz Family
3432 Palo Verde Blvd N
Gall Family
3150 Baylor Dr.
Cross street is Oro Grande & Sweetwater
"A Baylor Christmas"
Griswold Family
3770 Sweetgrass Dr.
"In memory of Frank Dabney"
Hardy Family
3396 Monte Carlo Ave
Cross street Daytona
Larry and Sue Janasik
2830 Tonto Drive
"Panda Paradise"
Cross street is South Acoma
John and Sandy
3050 Tripoli
cross street Arabian Drive
Glinde and David Jones
686 Thunderbolt Ave
"Lights to Music"
(formally the house on Cottonwood)
Doug Mason
3581 El Rey Lane
nearest cross street El Toro
Ritter Family
2885 Pony Drive
"Starry Night"
Cross street Jamaica and Scout
Stevenson Family
2108 Daytona Place
Cross Street Daytona Ave.
English Village
Under the London Bridge