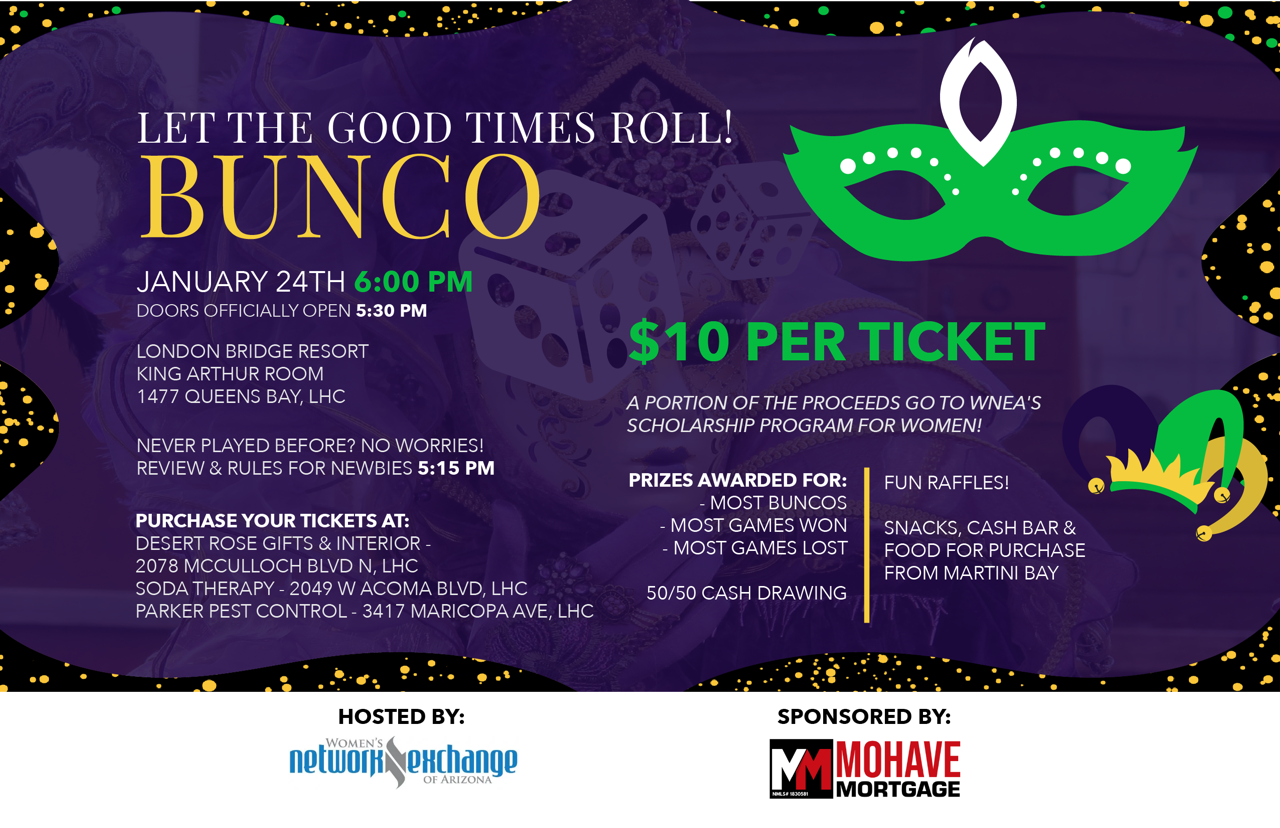 Hang out and roll with the good times with this great charity fundraiser! Doors open at 5:30pm with games commencing at 6pm! $10 per ticket (please bring exact cash if possible) The King Arthur Room is located inside of the main London Bridge Resort building to the left of the front desk. ...
Read More
---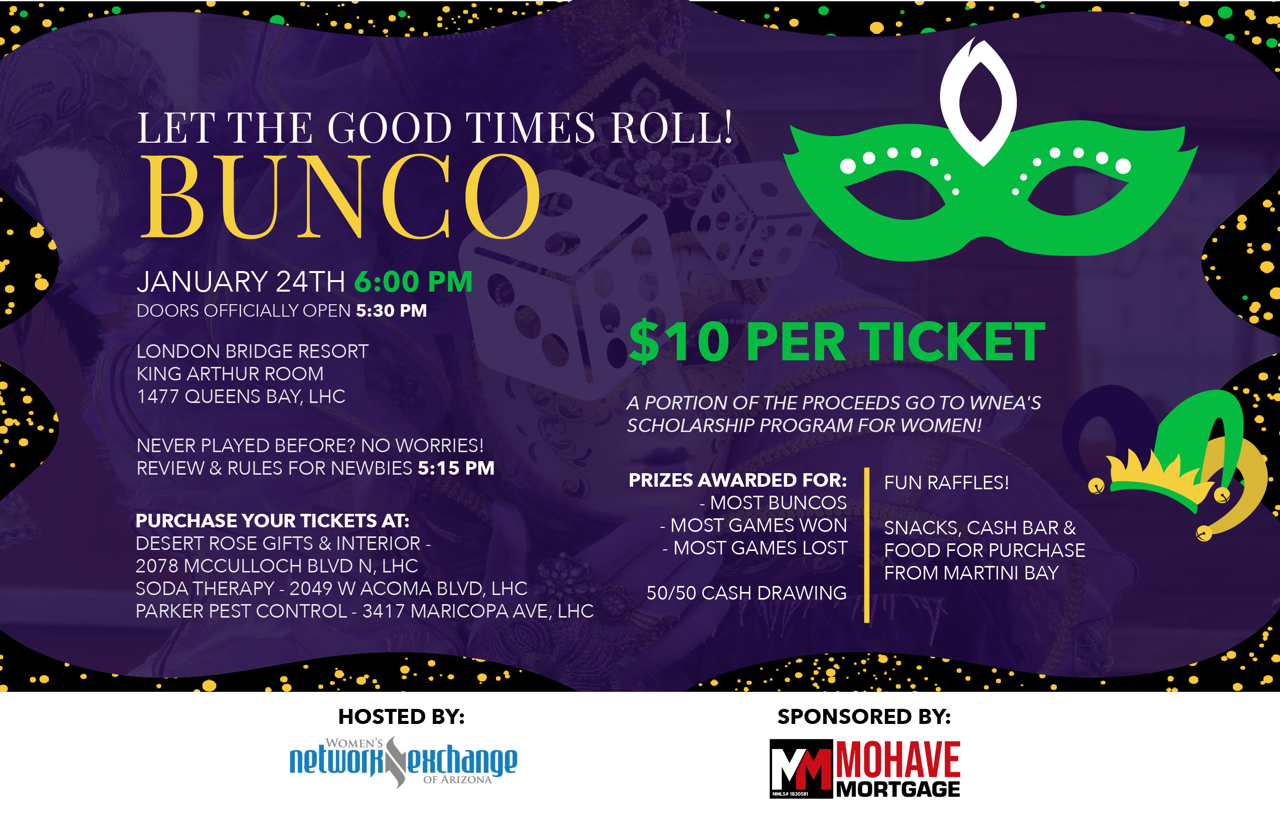 Let the Good Times Roll Bunco! Monday, January 24th @ 6:00 pm Doors officially open @ 5:30 pm London Bridge Resort King Arthur Room 1477 Queens Bay Lake Havasu City, AZ 86403 $10.00 per ticket A portion of the proceeds goes to WNEA's scholarship program for women! Purchase tickets a...
Read More
---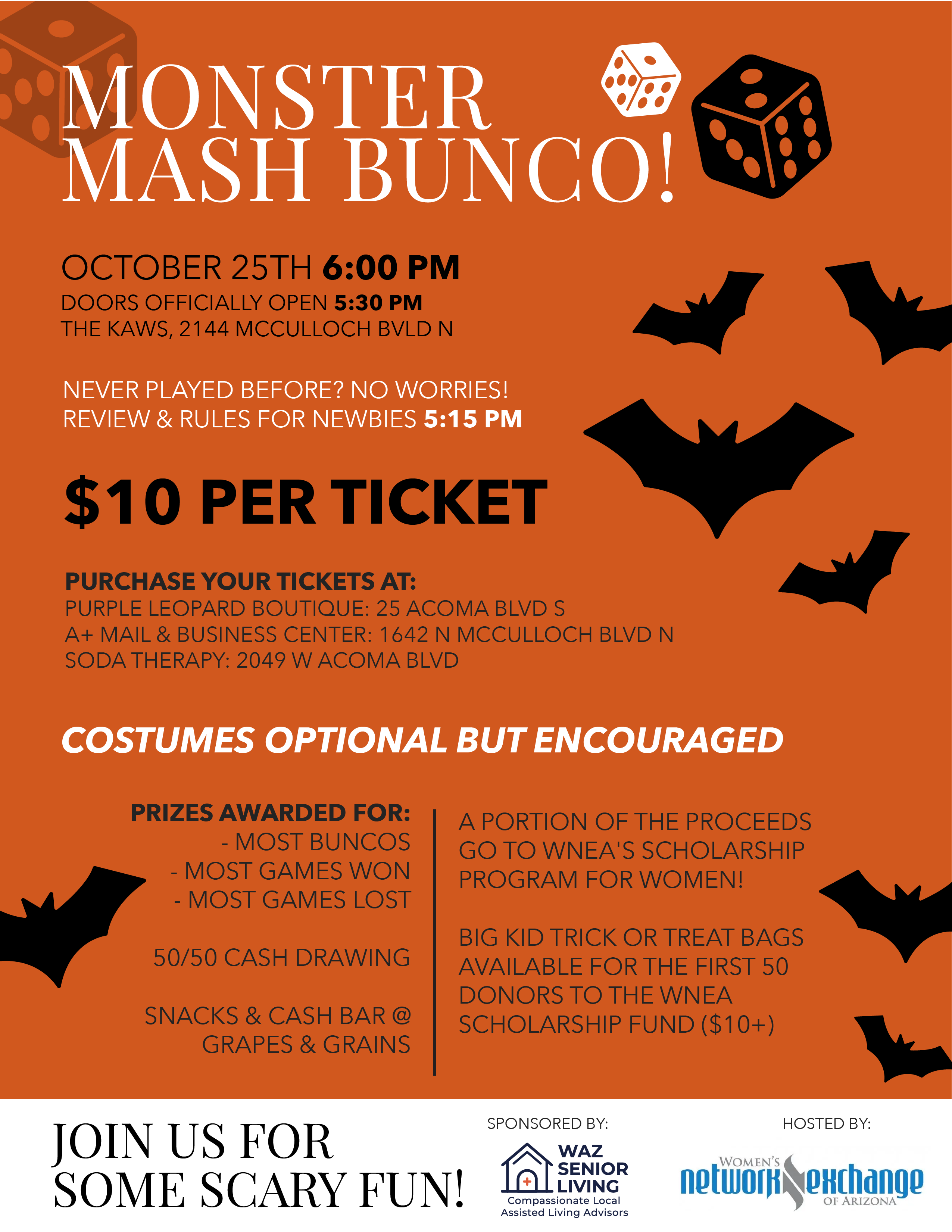 Come join us for some scary fun! Monster Mash Bingo $10.00 per ticket Tickets available at: Purple Leopard Boutique - 25 Acoma Blvd. S. A+ Mail & Business Center - 1642 McCulloch Blvd. N. Soda Therapy - 2049 W. Acoma Blvd. A portion of the proceeds to benefit WNEA's Scholarship Program for...
Read More
---
Western Welcome Club of Arizona Bunco Doors Open at 11:30 Light lunch at Noon $10 admission Men and Women invited Prizes...
Read More
---
Doors open 11:30 AM Salad and dessert 12:00 PM Bunco play starts 1:00 PM Usually ends between 3:00-4:00 PM, after prizes are awarded. For more information contact Peggy Lawley 928-680-3449...
Read More
---
Western Welcome Bunco on October 21. Doors open at 11:30 Light lunch at 12:00 Bunco from 1:00 p.m. to 4:00 p.m....
Read More
---
Bunco Doors open at 11:30 a.m. Light lunch at 12 noon. Bunco starts at 1 p.m. for men & women...
Read More
---
ASU STEM Club will be hosting a fundraising event on May 10th 2019 at 4:30 pm in the Gym at ASU Lake Havasu. There will be raffle prizes, bingo prizes and 50/50 raffle! $10 for 1 game set/$15 for 2 game sets. $150 reserves a 10 person table. ...
Read More
---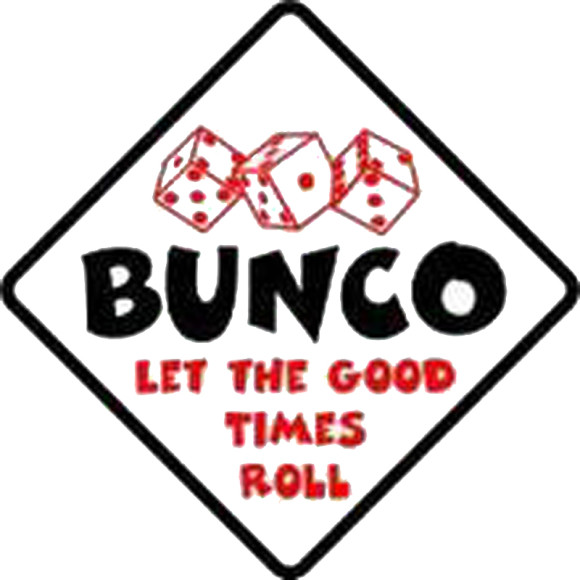 The 9th Annual Daughters of the American Revolution Bunco Party and Luncheon is scheduled for Wednesday, February 20, 2019, at the Aquatic Center in Lake Havasu City. The public is invited to join the party starting with lunch at 12:00 noon with bunco game to follow. Tickets are available at the ...
Read More
---
Lake Havasu Yacht Club Burgee Girls Bunco Day is November 6th. Doors open at 11:30 a.m. Lunch of Salads and Desserts at noon Bunco at 1:00 p.m. Cost is $8.00 Location is 631 London Bridge Road. Lots of fun, good eats, great prizes and raffles!!! For reservations contact Peggy Lawler at 928-68...
Read More
---