November 6, 2021 7:00 am to 4:00 pm come check out all the awesome hot rods at Riverbound Customs Storage off of highway 95 near Havasu Heights. There is no entry fee to enter your hot rod....
Read More
---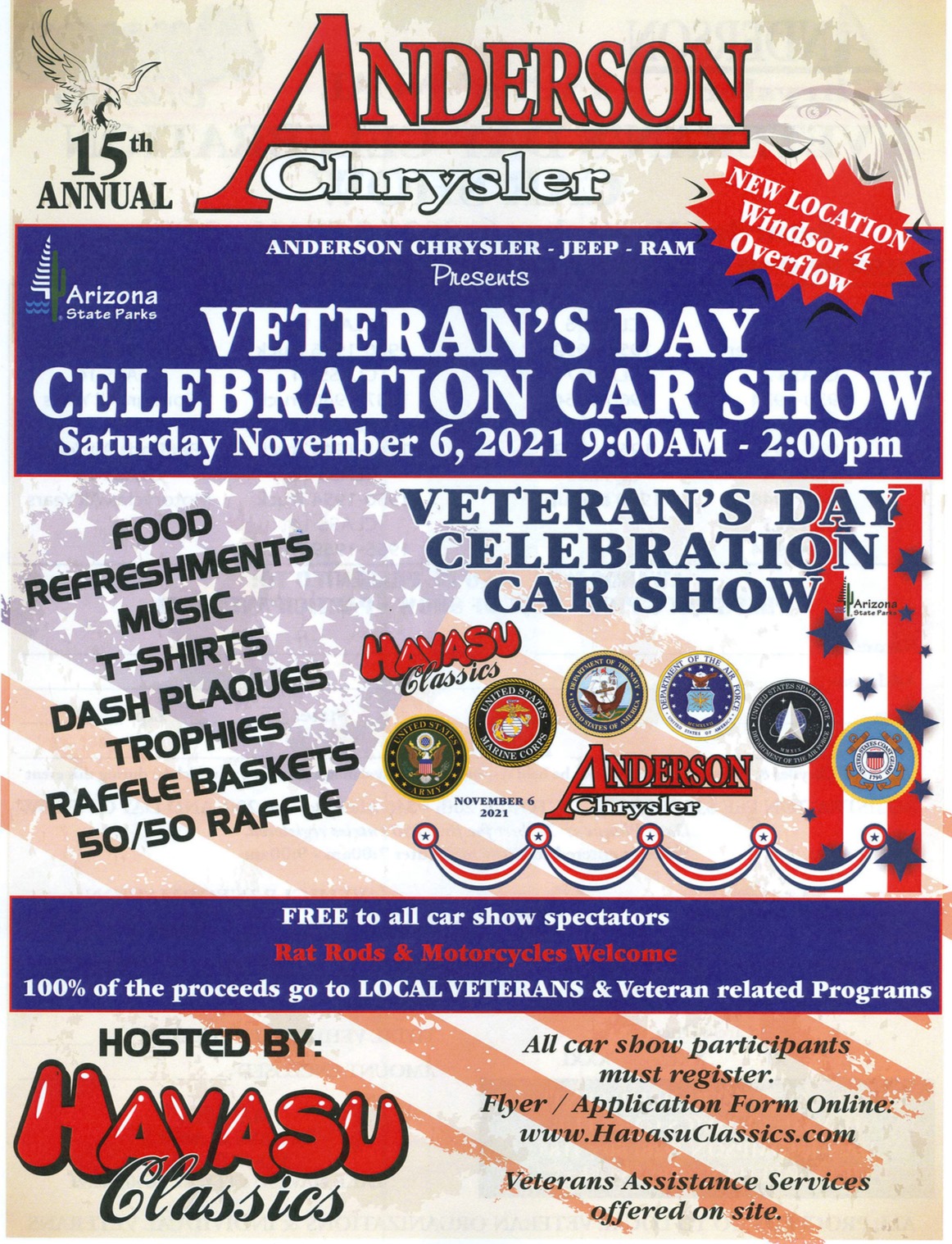 Join Anderson Chrysler in celebrating our Veterans with their 15th Car Show Saturday, November 6 , 9 a.m.-2 p.m. Event held at Windsor 4.  Food-Refreshments-Music-Tees-Raffle and 50/50! 100% of Proceeds go to LOCAL Veterans & Veteran Related Programs ...
Read More
---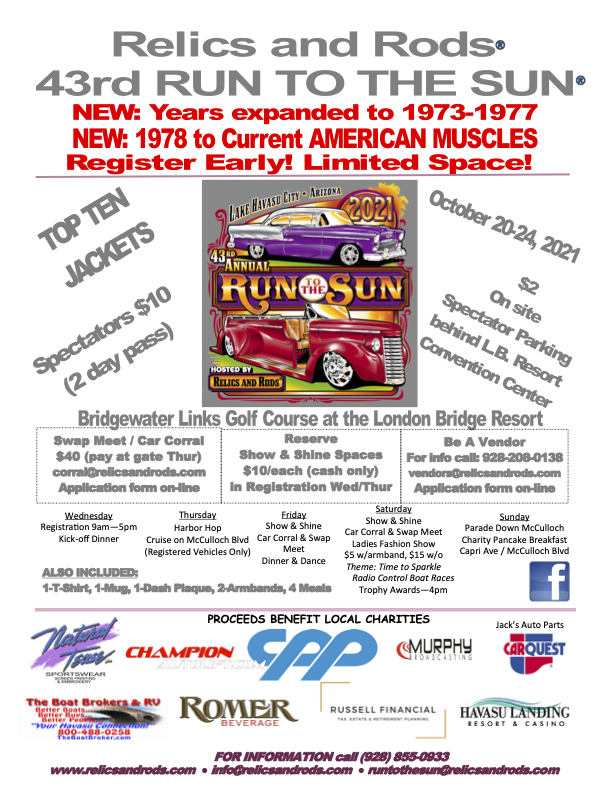 October 20-24 is the Relics and Rods Run to the Sun! The car show is held every year and consists of over 800 vintage cars 1972 and older. Wednesday, October 20: check-in for car owners and kick-off dinner. Thursday, October 21: Cruise on Main Street. This event is open to the public and will b...
Read More
---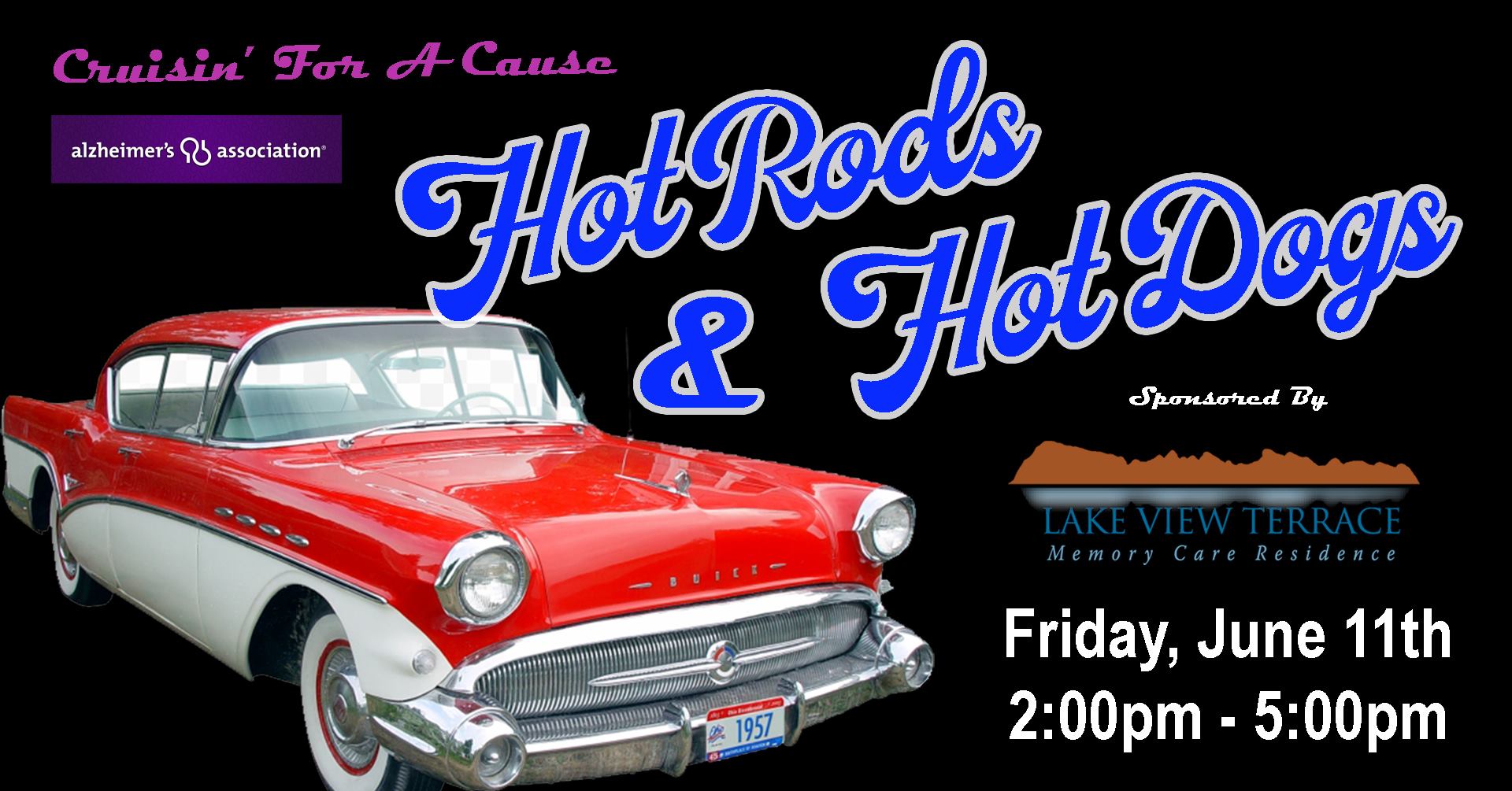 Please join us Friday, June 11th from 2pm-5pm for a fun filled afternoon with free* beer, hot dogs and a community classic car show. Located at Lake View Terrace Memory Care. 320 N. Lake Havasu Avenue * Donations accepted! ...
Read More
---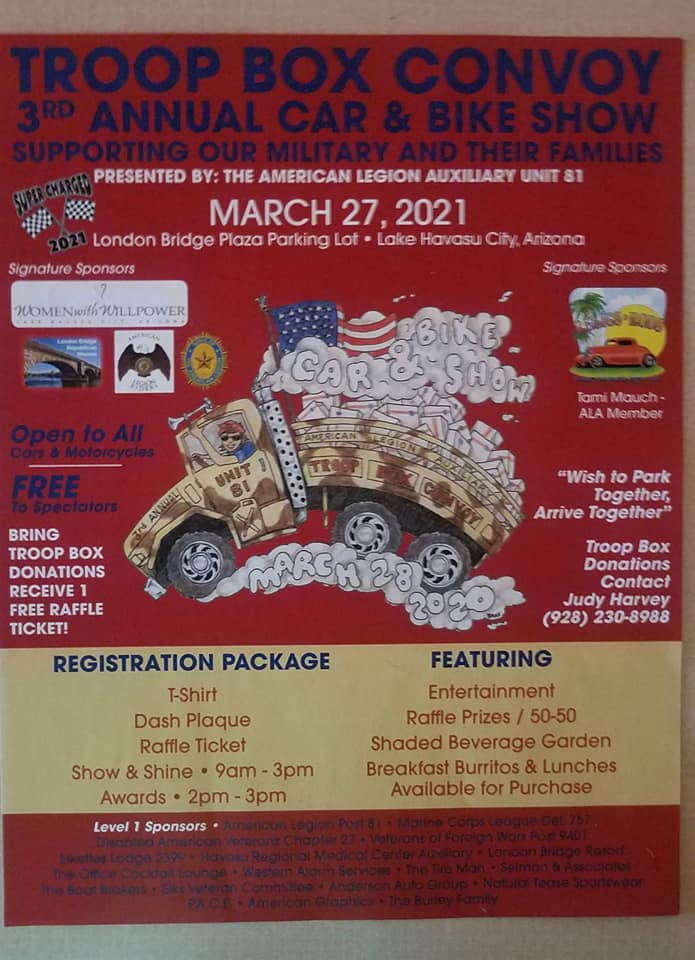 TROOP BOX CONVOY 3rd Annual Car & Bike Show Supporting our military and their families, presented by The American Legion Auxiliary Unit 81 March 27th, 2021 London Bridge Plaza Parking Lot, Lake Havasu City, AZ Open to all cars and motorcycles, FREE to spectators. Bring Troop Box donatio...
Read More
---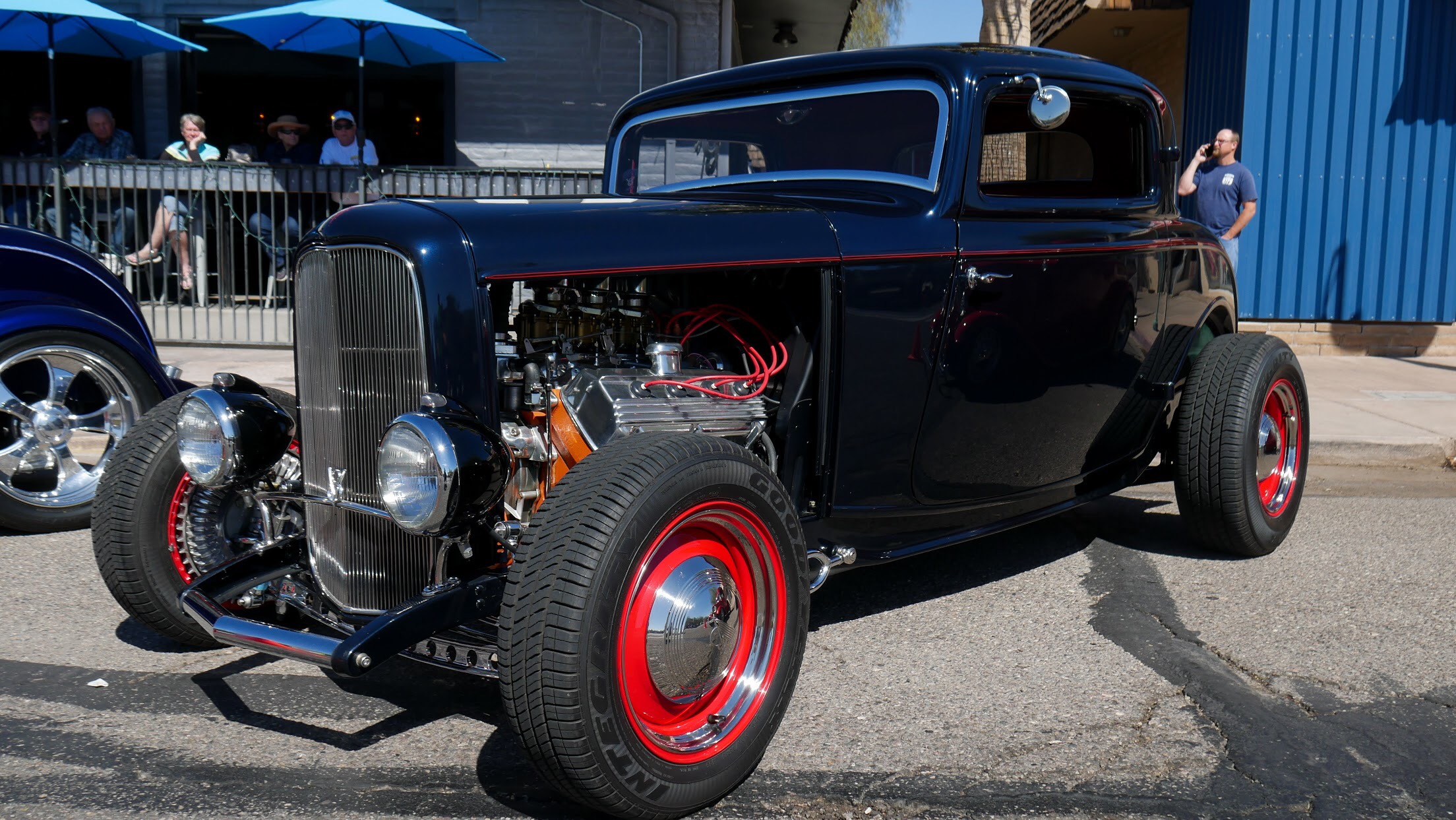 March 4-6 is Havasu Deuce Days! Thursday :  Deuces Downtown 1 p.m.-7 p.m Downtown District McCulloch Blvd. Free to public Saturday:  Show and Shine at Rotary Park 8 a.m.-3 p.m. Free to public [caption id="attachment_39502" align="aligncenter" width="1021"] Jillian Daniel...
Read More
---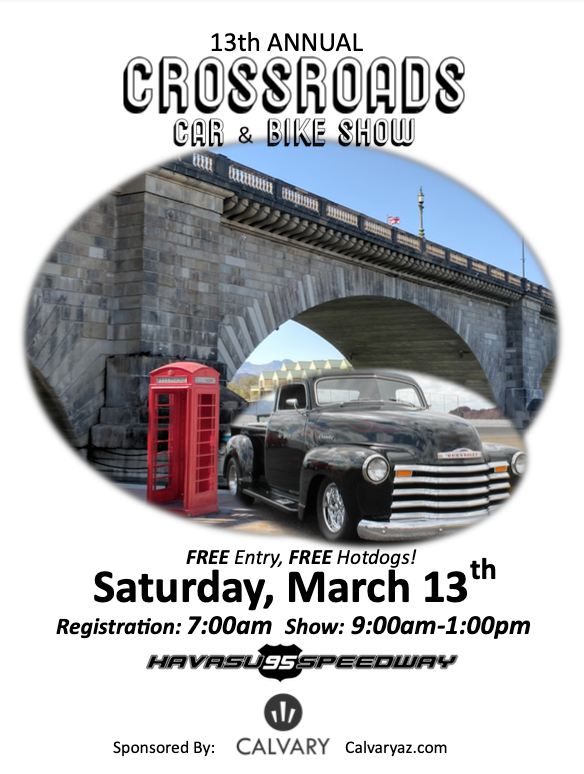 The 13th Annual Crossroads Car Show will be held on Saturday, March 13, 9 a.m.-1 p.m. at Havasu 95 Speedway. Free to spectators and free hotdogs. Registration starts at 7 a.m. Saturday morning. [caption id="attachment_44290" align="aligncenter" width="584"] Crossroads Car Show[/caption] [ca...
Read More
---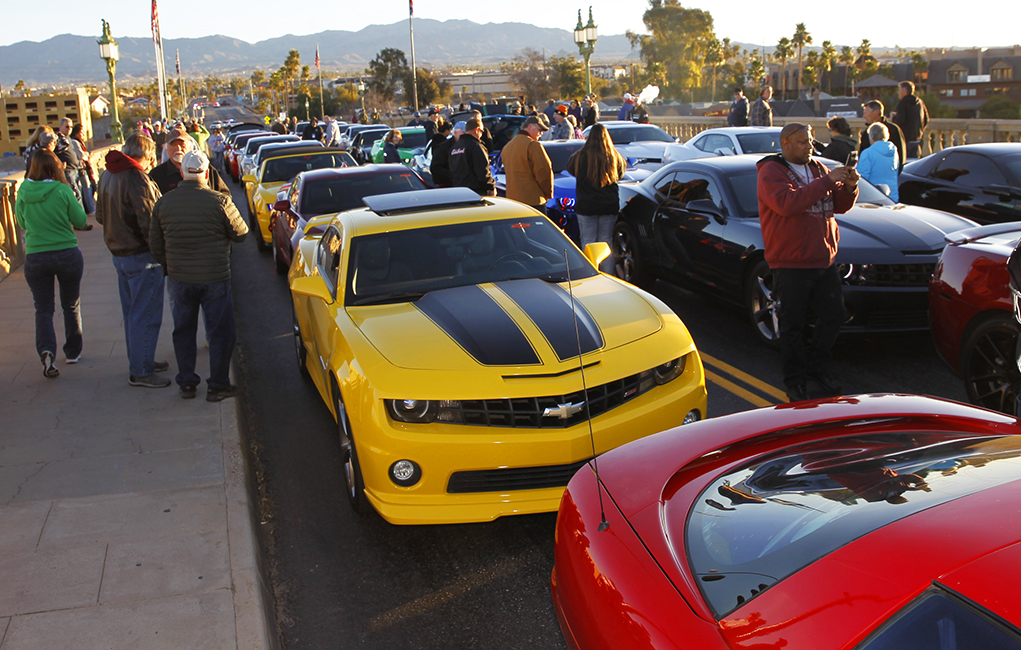 It's that time of year where 100-plus Chevy Camaros descend upon Lake Havasu for the annual Camaro event. There have been some adjustments this year because of the change in allowing bridge closures. The event will still be on the bridge, but the Camaros won't be stopping for the traditional phot...
Read More
---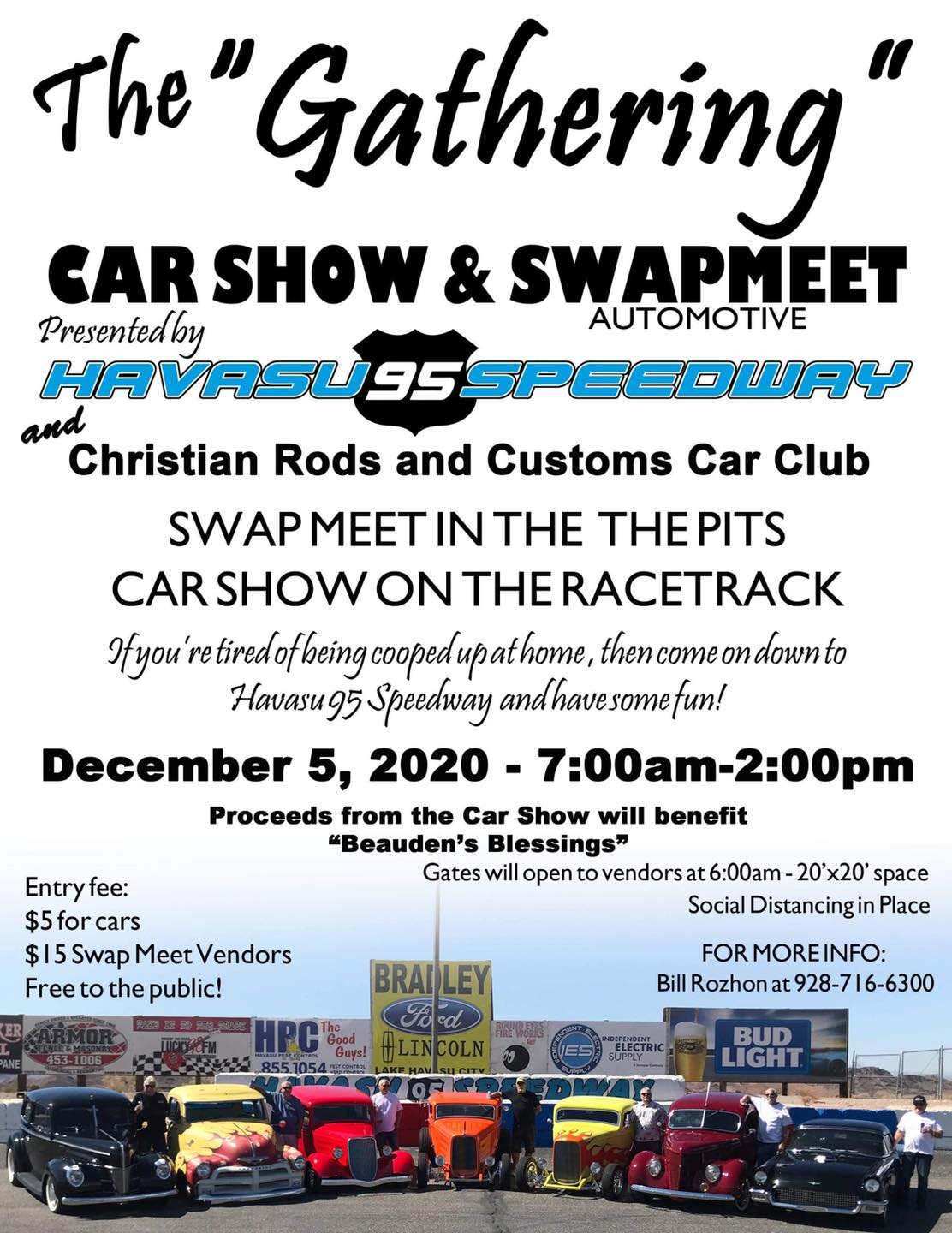 On December 5, 5 a.m.-2 p.m. is "The Gathering." A swap meet and car show will be held at Havasu 95 Speedway. Proceeds from car show to benefit Beauden Baumkirchner. This event is open to the public. [caption id="attachment_43532" align="aligncenter" width="640"] Havasu 95 Speedway Car Show[/c...
Read More
---
Come show off your vehicles and enjoy good food, drinks and friends Sunday October 11th at 2 p.m. to 5 p.m....
Read More
---