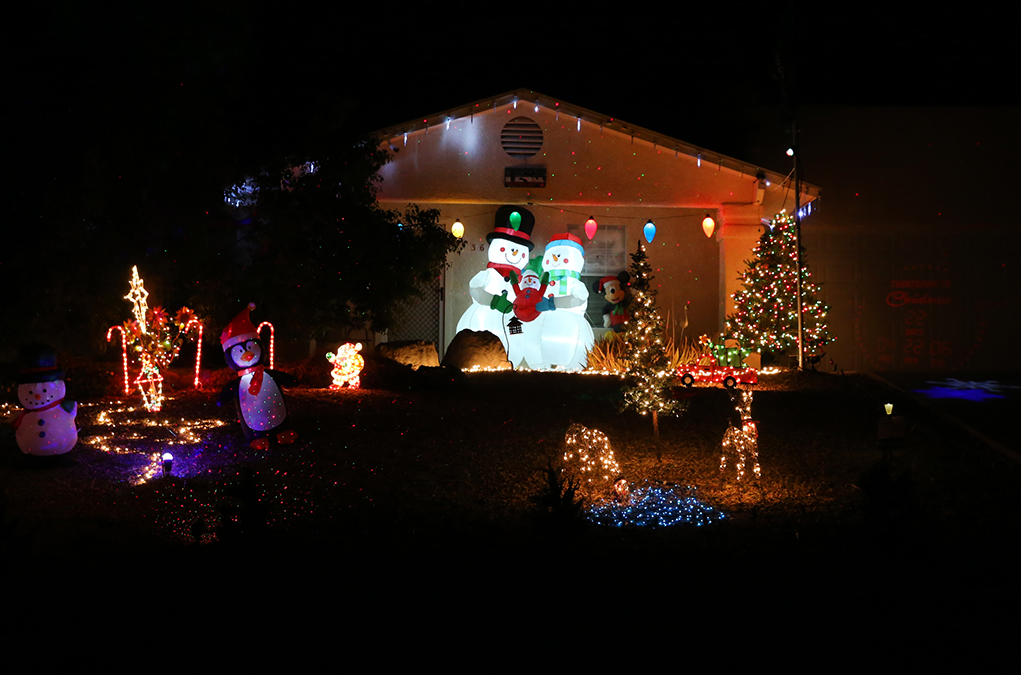 Lights of Havasu List
Countdown Until Christmas
During the hustle and bustle of the holiday season, taking a moment to enjoy the fruits of labor of those who decorate their houses for the enjoyment of others takes some of the stress away and adds to the joy of Christmas.
Following is RiverScene Magazine's guide to enjoying the Christmas Lights of Lake Havasu City.
If you would like to add your home to our list, please email your name, address and cross street to jillian@riverscenemagazine.com
"A Rockin' Christmas: Pounders Style" 
2037 Chip Dr.
A Rockin' Christmas, Pounders Style
"Havasu Christmas"
*3480 Big Chief Dr.
cross street is Pawnee
Benthagan Family
3621 Bluegill Drive
"Baily's Wonderland"
Cross street Pueblo Drive
"Christmas Sparkles"
3160 El Dorado Ave N.
Cross street Bermuda
Richard and Jodi Creager
3545 Bali Dr.
Cross Street: Jamaica and Monte Carlo
"Christmas Tipi Village"
dusk to midnight, 7 days a week November 30-January 1.
Alex Dennen Family
3099 Saratoga Ave.
nearest cross street Ranchero Dr.
Ryan and Nikki Erickson
3334 Thunderbird
"The Grinch is Up to No Good"
Gall Family
3150 Baylor Dr.
Cross street is Oro Grande & Sweetwater
"A Baylor Christmas"
Griswold Family
3770 Sweetgrass Dr.
cross street Mohican Dr.
"In memory of Frank Dabney"
lights will be on 7 days a week , sunset until 11:30pm
Glinde and David Jones
686 Thunderbolt Ave
"Lights to Music"
(formally the house on Cottonwood)
McCullough Family
3115 Cotati Dr
Karina and Chrystina Perez-Crespin
Critter Wonderland
2810 Arabian Dr.
Cross streets: Simitan Dr. and Kiowa N.
Day and Time: Everyday 5:30-9:30pm
S&S Family
2341 San Juan Dr.
Cross Street Holly
"Holiday Cheer"
Stevenson Family
2108 Daytona Place
Cross Street Daytona Ave.
Mark & Lynette Vernon
3380 Oasis Dr
Lights on starting 11/29/19 thru New Years
We call it Rock N Roll Santa House.
Christopher Zickefoose
3421 Oro Grande 102
"Winter celebration"
English Village
Under the London Bridge