Sponsored Content
There's more than meets the eye.
Better Business Bureau (BBB) has always been there to provide consumers a reliable place for trustworthy information on businesses in their community – and will continue to do so.
But today, they are so much more. BBB has transformed into a partner that proactively supports an ethical business community by providing resources and education from leading experts, a curriculum to improve business acumen and access to grants that support growth.
In Lake Havasu City, BBB is reaching far and wide to support local businesses, nonprofits and high school students so they can achieve their goals to create an ethical community.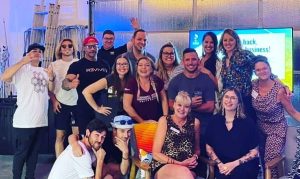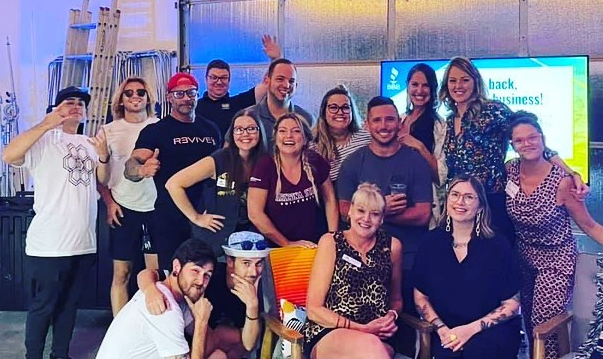 (BBB, Lake Havasu Area Chamber of Commerce and PED business mixer event)
As part of this support to serve diverse business owners and entrepreneurs, BBB is proud to offer the Empower by GoDaddy and BBB Main Street Accelerator program to equip local businesses with the resources they need to accelerate their business journey.
"The Empower Program was a life-changing experience and came into my life at the perfect time," said Lauren Albrecht, owner of Hey Ms Lauren Creative Agency in Lake Havasu City and Empower graduate. "Throughout the program, I got connected to resources that inspired me to invest time in building my own brand identity while gaining the confidence to expand my reach and help other entrepreneurs."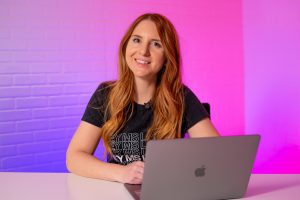 (Lauren Albrecht, Hey Ms Lauren Creative Agency)
BBB thrives on helping good people do good things.
Based at the F106 Cowork Space in Lake Havasu City, Kryistyna Hook, Director of Media Relations, is the point of contact for all Mohave County businesses as their connection to the vast support BBB offers. But organizational change is an all hands on deck mission, and Matthew Fehling, President and CEO of BBB Pacific Southwest, has been at the forefront of this sea of change and the transformation to innovate and operate in more of a day-to-day support role.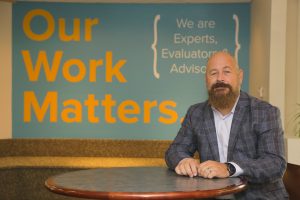 (Credit BBB, Matthew Fehling, BBB Pacific Southwest President/CEO)
"We want people to hear "Better Business Bureau" and think 'help' for good businesses, not just a torch sticker on their door or icon on their website," said Fehling on "Conscious Curiosity," a podcast that provides the backstory of successful, purpose-driven leadership.
"Our founding mission is to celebrate businesses who are doing the right thing, but we take it a step further to strengthen operational knowledge of these businesses so they don't just survive, but thrive."
To help both for-profit and non-profit organizations, BBB offers tools and subgrant awards to help build programs and resources for the community. The subgrants are part of the Empower by GoDaddy program, in partnership with ignite sparked by BBB.
Lake Havasu City subgrant winner,
---
Network Exchange of Arizona (WNEA) was thrilled to receive the funds to help further their mission of supporting local women entrepreneurs.
"We are honored to be this year's recipient of the grant. These funds will help to further our mission of empowering all women in business and in life, including enhancing technology needs and other areas that will enhance our organization experience for our members. We are grateful to be chosen as this year's recipient," shared Janet Cruz, WNEA President.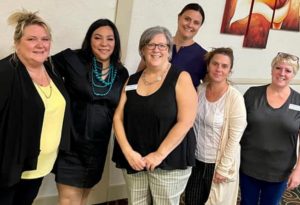 (WNEA Board of Directors: Vice president Angie Foltz, President, Janet Cruz; Secretary Kelly DiFilippo; Media, Harmony Rowley; Treasurer, Regan Robertson; Membership Director, Christina Michelson, Ways and Means Director (not shown), Dawn Hansen)
Creating trust between small businesses and BBB is not only cultivated at the professional level, it starts from the ground up. This year, $45,000 in scholarships were awarded to 40 high school students, which recognized these future leaders for ethical actions in the community.
First place winner, Dylan Caton, of Lake Havasu City, shared how integrity is more than a one-time action; it's a way of living.
"People will always make mistakes but owning up to your wrongdoing is what counts. It is never easy to give up a piece of dignity, but making that decision is the most valuable step in leading a life with strong moral principles," said Caton.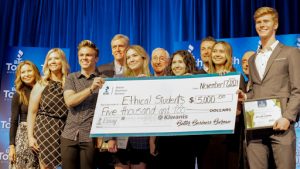 (Arizona scholarship winners, Right: Dylan Caton)
By honoring businesses, nonprofits and students, the bar is being set for how ethical operations can positively affect the local community. With a forward focus on support and education, BBB continues to strengthen the network of ethically conscious businesses to gain the support and trust of consumers.
Visit us at BBB.org or call to schedule an appointment at our co-working space at 1100 London Bridge Rd, F106 in Lake Havasu City.