Sponsored Content By Becky Maxedon
After just a quick drive around Lake Havasu City, it will be no shock that the construction and real estate market is booming right now. Whether it's a new build or a remodeling project, doing research is crucial before signing that contract. Everything from HVAC inspections and heat-related damage to adding patios, pools and decks – each requires the very best knowledge from qualified service providers. For every major home project, homeowners need a specialist who knows the ins and outs of their trade and has all the certifications and licensing to do the job correctly.
"Home is where the heart is. It's where our family lives and where we spend a majority of our time," says Kryistyna Hook, Director of Media Relations for Better Business Bureau Serving the Pacific Southwest. "Before hiring a business to come into your home, you want to make sure you can trust who you've chosen and know with confidence they will complete the job accurately and safely."
Specialty contractors are licensed professionals who are devoted to their craft, have years of experience, and provide high-quality services, materials and craftsmanship.
"A home remodeling project of any kind is generally an expensive undertaking, so you need to make sure you choose a reputable company who will do the job right," said Hook.
It's best to start with some research. You can get a good idea about how trustworthy a contractor is by checking their profile on BBB.org. The website provides consumers a safe place to verify and find certified contractors — which is important, with so many fraudulent websites and scammers around. Homeowners will also want to verify they are properly licensed and insured for the job they need done.
It's a good idea to request quotes from a few different businesses using the same specifications for each, ask if they do background checks on their employees, get written proposals, and arrange a payment schedule that you both agree to. Reading customer reviews on a business profile will give you great background information on how a business handles customer relationships and issues should they arise.
Look for the BBB Trust Seal when searching for businesses.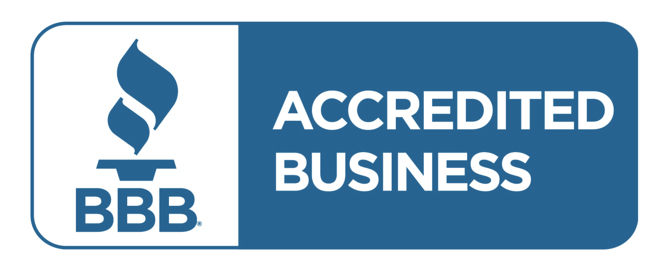 To add an extra level of security, choose a business that is accredited with BBB. Businesses are invited to become a BBB Accredited Business, so it's quite an honor for the company. To be eligible for BBB Accreditation, you must be in business for a minimum of 6 months, maintain a BBB rating of B or higher and abide by BBB's 8 Standards for Trust. These standards embody values like being responsive, being honest in advertising, being transparent, and up to date on required licensing.
"Companies accredited with BBB support our mission of trust and are willing to have a deeper dive into their business. They commit to integrity in all their business operations and truly embody ethics in their services," said Hook, who is located in Lake Havasu City and serves as the local contact for businesses and consumers. In Lake Havasu City, there are many BBB Accredited Businesses to choose from for contractor work, handyman services, flooring installation, HVAC repair and more.
Search for one now by clicking here: https://www.bbb.org/search?find_country=USA&find_latlng=34.543760%2C-114.132310&find_loc=Lake%20Havasu%20City%2C%20AZ&find_text=contractor&page=1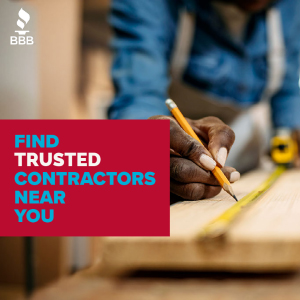 BBB encourages businesses to operate with integrity, and helps consumers make wise marketplace decisions. Their innovative approach to business growth provides the tools that companies and entrepreneurs need to build better businesses. Become BBB Accredited and join their mission to create a community of trust.
For more information, contact Hook at Better Business Bureau Serving the Pacific Southwest. While their office is still closed to the public, she can be reached at kryistyna.hook@bbbcommunity.org or 928-302-3701.
As it is safe to do so, BBB looks forward to welcoming guests into their local location at F106 Co-Working Space, 1100 London Bridge Road in Lake Havasu City.