The 12th Annual Chillin 'N Swillin Beer Festival loaded Rotary Community Park Ball Fields Saturday with beer-loving folk in Lake Havasu City.
First-time attendee Jillian Usher, 21, of Havasu, said it was all about the experience.
"I wanted to do something different and experience the different variety and tastes," Usher said.
"It' all about the experience."
Others were seasoned at Chillin 'N Swillin and coordinate with friends for the event.
"We do this every year with friends," said Christine Johnston-Klauschie, of Phoenix, who has been attending for five years. "It's an annual event and it's a great cause."
Friend Jadie Dulmage, of Havasu, has been attending since the event's inaugural unveiling on the Island.
"We've been coming for years," Dulmage said. "I like that it is such a fun event and the money goes back into our community. It's great thing to get everyone together for beer tasting."
Dulmage said her favorite brewery is local Outlaw Brewery, simply because her daughter works there.
"We try to do something different every year," Dulmage said of her crew's matching T-shirts, pretzel necklaces, and handcrafted fluorescent-colored visors adorned with glued-on, repurposed beer caps. "One year we wore funny wigs, or funny hats, and last year we were superheroes."
Others come straight for the beer, like Dougie Barry, of Havasu.
"Me and my bonehead friends over there were the first ones in line to get in today," Barry said. The trio arrived at 1 p.m. to secure their position. "We're here for the drinks."
Barry said his favorite beer on tap during the festival was Outlaw Brewery's Pumpkin Spice.
Friends Beave Pruett and Eric Hoff said their favorites were Mudshark Brewery's Hava Blue and Apple Pie Ale, respectively.
Mudshark Brewery owner Tina Stocking said they had 15 different beers showcased during the event, including a few created specifically for the celebration.
"We have Peanut Butter & Jelly beer, which is a stout; Vanilla Blonde Latte, which is blonde-ale based, it's very clear and light; and Cucumber Sour beer, it's aged in barrels and is very fresh and natural with cucumber juices," Stocking said.
Stocking said her and husband Scott have been participating in the event for years and it's a favorite because they see so many locals out enjoying it.
Only Orchids nonprofit group leader Dustin Runyon was at Mudshark's tent for their Full Moon Belgian White Wheat Beer.
"We're very supportive of Mudshark's," Runyon said. "There's no one who supports the community and gives back like they do. They give, give, give."
Within the last month, Runyon earmarked two recent school-based Only Orchids events and the recent Walk to the Moon car show event as partnership examples.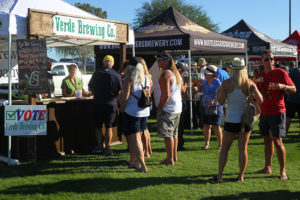 Chillin 'N Swillin Inc.'s nonprofit group president Nancy Dreier said 24 brewery vendors turned out for the event, four of which were local breweries. Others were from the Tri-State area, one from Colorado.
"I don't have a favorite," Dreier said, with a laugh. "I love them all."
Proceeds from Saturday's festival are set to benefit eight local nonprofits with sponsorship funding. The eight includes Lake Havasu High School sports scholarships; Lake Havasu City Parks and Recreation After-school Program scholarships; Lake Havasu City Fire Department's Senior Lock Box program sponsorships; Literacy Council; H.A.V.E.N.'s Food 4 Kidz program; Havasu Fire's "After the Fire" video, which is a community education tool targeting the high school- and college-aged generation; Salvation Army; and Lake Havasu Community Emergency Response Team.
Last year, $30,000 was donated, Dreier said. To date, at least $196,000 has been generated from the annual festival.