By Nicole Matheson
With the holidays fast approaching, it's time for RiverScene's Lights of Havasu list.
Just unveiled, The Lights of Havasu lists the homes that are decorated for the holidays this year on an interactive map. Use the map for routing your own trip around town to see the beautiful lights by clicking HERE, or join the fun and submit your own address for your decorated home HERE.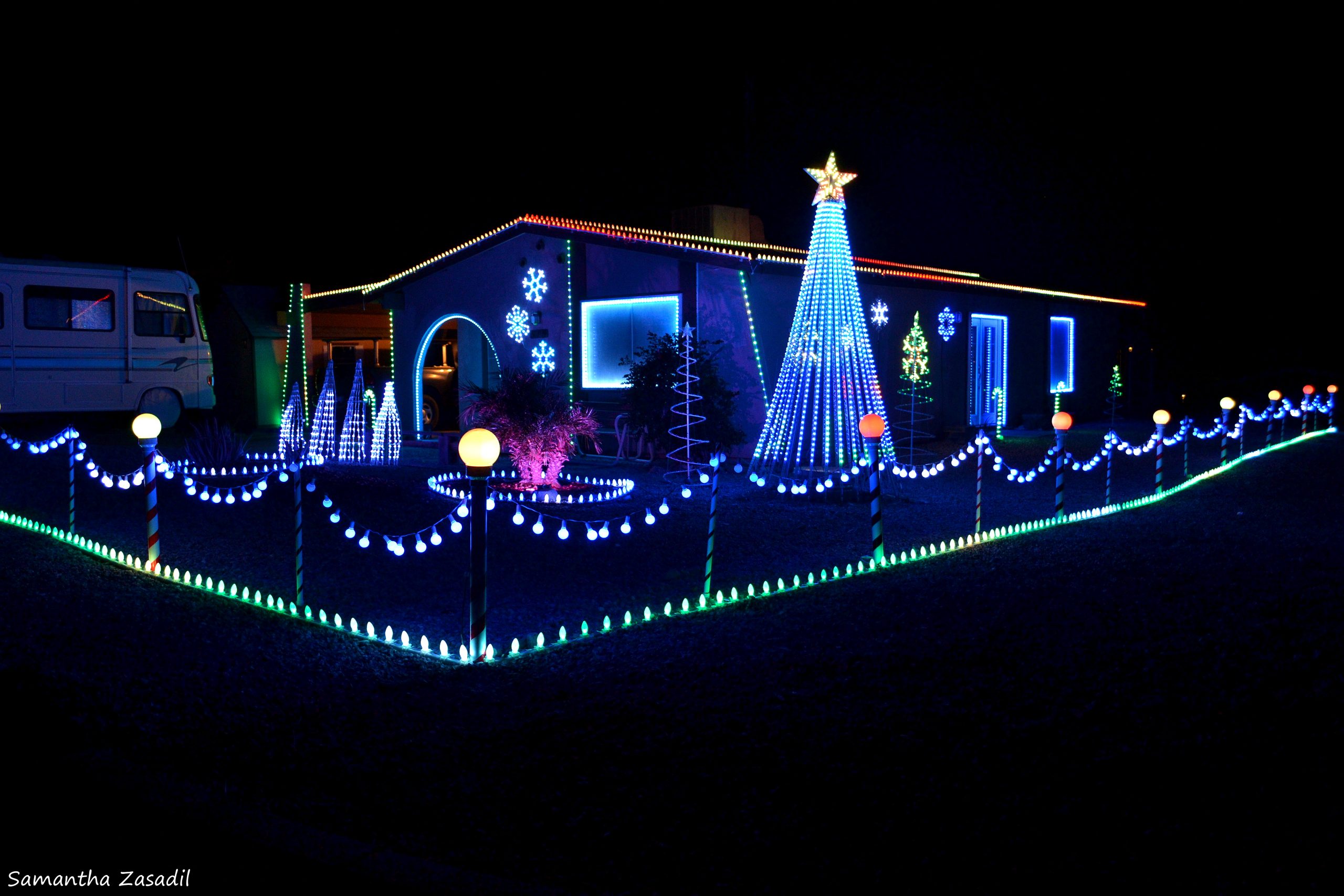 Christmas lights aren't only shining in residential areas. Just under a million bulbs have gone up at the English Village thanks to Tim Carter, Stephen Samarin, Bruce Perrette, Robby Mitchell, Billy Staib and Josh Matter.
Their efforts will dazzle in the Festival of Lights taking place the day after Thanksgiving immediately following the traditional Swim Across The Channel race beginning at 6 p.m., Nov. 26. The winner of the race gets the honor of flipping the switch to turn on the lights, officially beginning the Christmas season in Lake Havasu City. The race is open to all ages, visitors and locals alike.
Josh Matter, of the Christmas light crew, said there are no challenges this year in placing the lights thanks to, "A good bunch of guys."
Celebrate the success of their hard work with them and see the 26th Annual Festival of Lights. The lights go out at 10 p.m. and will be in place from Nov. 27, until Jan. 9, 2022.
Speaking of Christmas lights, the beloved Boat Parade of Lights will continue this year as organized by JJ Gibbs, upholding a 37-year tradition started by the Havasu Yacht Club. So far, there are 65 entries to the parade with possibly more to come before the Dec 1 deadline to join.
The decorated boats will light up the Bridgewater Channel and compete for prizes in multiple contest categories. The free to the public celebration will take place one night only Dec. 4, at 7 p.m.
"There's going to be a wide array of decorations," JJ Gibbs says of the event, noting that some of the decorations may not only be Christmas related but patriotic as well.
Also this year there will be a lighted freestyle personal watercraft display. Local freestyle riders will decorate PWC  for Christmas and bring a lively touch to the event.
These aren't the only ways to enjoy the season. There will also be a tree lighting at Wheeler Park on Nov. 28, at 6 p.m., that will get a special visit from Santa and is hosted by Radio Central. Bring a chair.
To learn more about many other events happening in December, visit the RiverScene online event calendar https://riverscenemagazine.com/calendar-event/ .