By Becky Maxedon
Anyone who has ever watched "Pawn Stars" on television knows that autograph collecting can be a lucrative pastime.
But autograph collecting for those in Lake Havasu City usually means traveling miles to Las Vegas, Los Angeles or Phoenix to events like Comic-Con or other celebrity signings.
Well, one local shopkeeper has made it his business to make that a little bit easier for locals and to draw autograph hounds from other parts of the country to Lake Havasu City.
Matt Ferree, owner of Flashback Toys and Collectibles, has hosted three autograph-signing events and is preparing for the fourth.
Clint Howard, one could arguably say, has a career rivaling anyone in Hollywood.
He started acting when he was 2 years old as a tot on "The Andy Griffith Show," with his older brother, actor/director Ron Howard.
Howard's resume runs from 1962 to the present time. It includes both film and television performances too numerous to list. Some memorable roles were in "Star Trek," "Gentle Ben," "Seinfeld," "Star Wars," "The Waterboy," "Little Nicky" and "The Ice Cream Man."
He will be at Flashback Toys Sept. 2, from 11 a.m. to 6 p.m.
"I enjoy unique venues. Places like Flashback Toys give me the opportunity to experience collector's passions. I geek out at those sorts of things," Howard said in an email interview.
Although he said he has never been to Lake Havasu City, he has been in the area.
"Myself and the family spent a long weekend at Pirate's Cove on the Colorado River. We fell in love with the vibe and now do an annual trip," he said.
Ferree said Howard will provide complimentary 8×10 photos from various roles he has played to sign with any paid autograph. There will also be copies of his book, "The Boys" that he wrote with his brother Ron Howard.
"There are some neat custom props from his movie 'The Ice Cream Man' that he is well known for in the horror community that fans can get signed," Ferree said.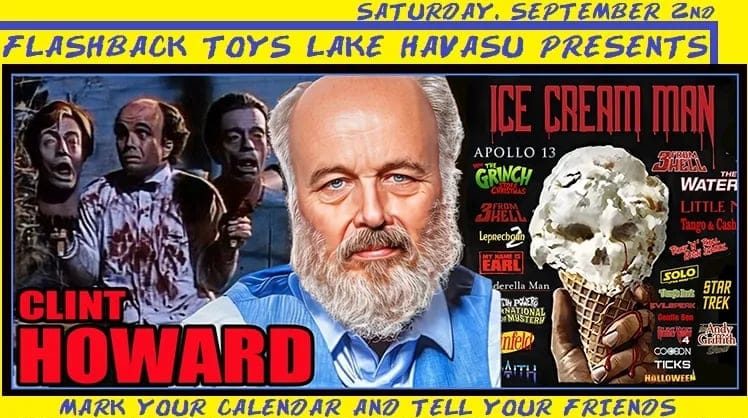 Howard said his favorite movies – in no particular order – are "Godfather II," "One Flew Over The Cuckoo's Nest," "The Exorcist," "All That Jazz" and "Apollo 13."
"I don't have a TV list but I will say 'All In The Family' is an absolute gem," he said.
Howard said he has been working on producing another version of "The Ice Cream Man."
"I'm looking forward to meeting the fans and enjoying the Lake Havasu City area with my family," he said.
Ferree said that after operating an online business featuring only horror movie merchandise, they found a small unit and opened Terror Toys in 2017.
"We ended up getting really busy and people started bringing in all different types of collectible memorabilia and vintage toys. I was taking that stuff in to fill some space, even though it wasn't what I intended on carrying. It wasn't long before we were less than half horror dedicated," he said.
The store closed during the pandemic but since reopening, they have extended hours, rebranded the store and attracted new customers in addition to their former regulars.
Flashback Toys and Collectibles is family owned and operated and both Matt Ferree and his wife Cherice, are longtime Havasu residents.
The store features mainly collectible toys and movie memorabilia from the '80s to the early 2000s, vintage video games and systems.
"We have a little bit of everything, though," he said.
"Clint is a very friendly guy and spends time talking with fans and answering any questions. He will have 8×10 photos to sign if you don't have something that you'd like to get signed,"
Howard will charge $50 for an autograph, $20 for a selfie, or a combination of both for $60.
Flashback Toys and Collectibles is located at 30 Querio. Visit the Facebook page at Flashback Toys and Collectibles.
To view a story on actor Tony Moran who was "Michael Myers" and his visit to Flashback Toys, click here: https://riverscenemagazine.com/halloween-comes-early-to-havasu/