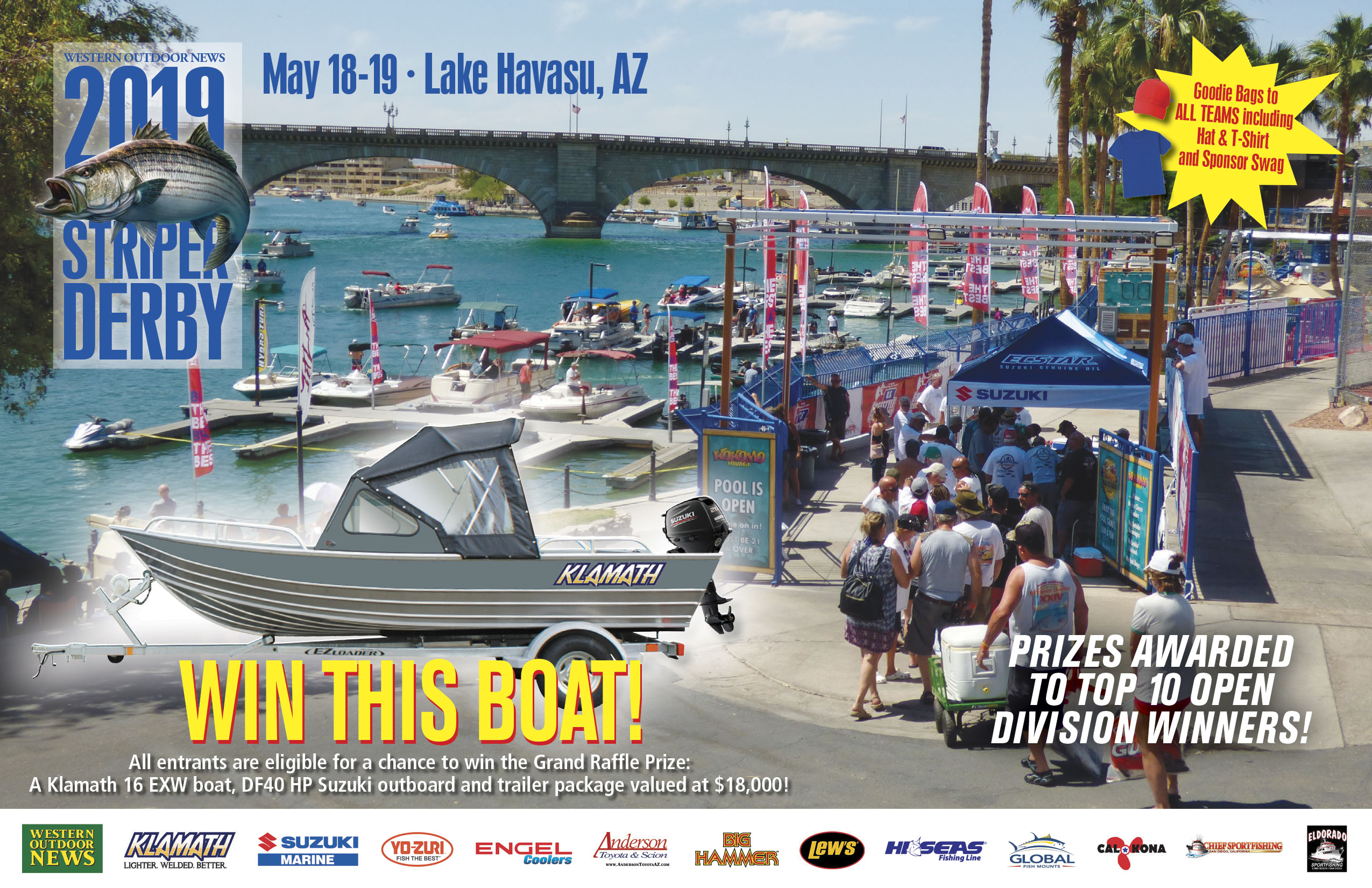 Western Outdoor News and the city of Lake Havasu are proud to be hosting the 37th anniversary of the Lake Havasu Striper Derby this coming May 18 – 19, 2019.
WON will be hitting the Havasu heat in May to dole out the prizes, cash and fun in the sun, to the hundreds of participants certain to make the annual trip.
This year's Grand Raffle prize Klamath 16 EXW paired with a Suzuki 40 HP motor and trailer will be a rig worth parking in front of the house to show off. Not to mention the family fishing fun at your local fishing hole at gorgeous Lake Havasu.
The Striper Derby festivities kick off on Friday afternoon at the team check-in, held at Anderson Toyota at 6510 Showplace Ave in Lake Havasu City. Anderson Toyota will be hosting all anglers and family members at a special appreciation BBQ during registration hours from 4 pm until 7 pm. Teams will check in during this time, and they may purchase event T-shirts, make partner changes and enter the blind bogie and big fish options if not already entered. Late sign-ups will also be taken at this time. After check-in, a brief Captain's Meeting will take place to go over event rules and weekend activities for first time entrants.
The entry fee is $175 per team and it includes your basic entry and chance to win the boat, trophies and many other tackle prizes, including your Striper Derby hat and T-shirts for both team members. But most people enter the great options, which are $40 each day for the the blind bogeys. The General Big Fish Option is $20 per team and goes into the pool to be paid out to the five biggest stripers caught during the tournament based on 1st (35%), 2nd (20%) 3rd (20%) 4th (15%) 5th (10%). So for only $275 your team is "ALL IN." This year there is the "HIGH ROLLER" entry, which puts those choosing to lay down another $100 into a separate TOP 3 Big Fish pool to be paid back on to the angler with the 1st (50%), 2nd (30%), 3rd (20%) biggest fish based on the number of anglers entered into the pool.
The ever popular "BLIND BOGEY" contest running on both Saturday and Sunday is a fun way to win some random cash at the event . The $40 entry cost for each day goes into the blind bogey fund and gives the team a chance at winning a share of the random blind bogey weights. So whatever sized striper you catch, bring it in and weigh it and you might just be a cash winner, too.
Mark the date for this year's event on your calendar and plan to attend the largest, most lucrative striped bass fishing event in the United States. The sun, fun, and festivities await you and your family. Please feel free to give Tournament Billy Egan a call at (949) 366-0248 if you have any questions regarding this event.
Details
Date:
May 17, 2019
Time:
04:00 pm - 05:00 pm
Event Categories: