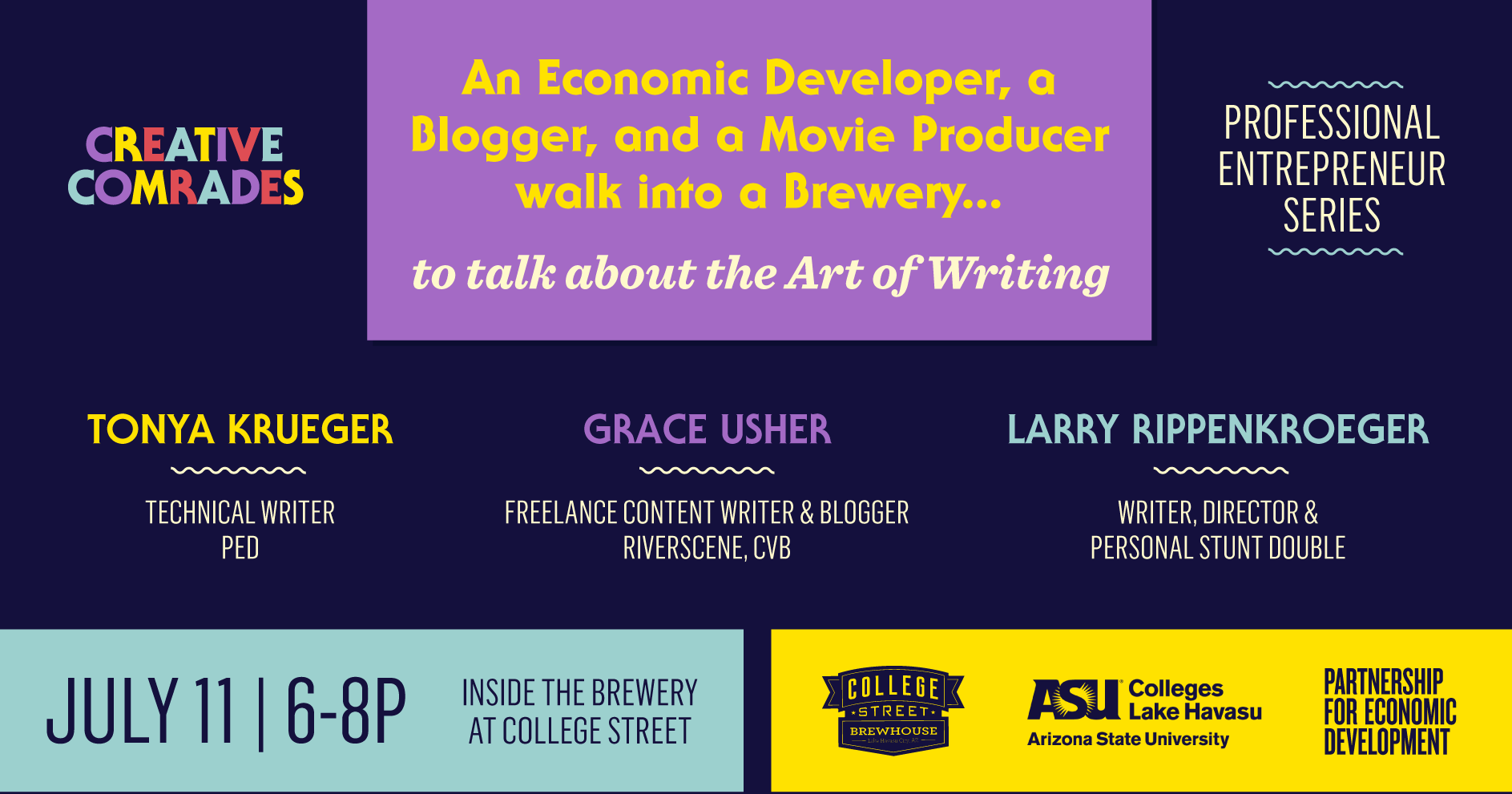 Creative Comrades is a monthly meet up for all entrepreneurs and creative professionals in Lake Havasu.
July's meet up is a discussion with three writers who have diverse backgrounds, each currently working on various creative projects. Through their lenses, we'll dive into the world of crafting narratives, new content, and storytelling for your audience. Our panelists are extremely talented!
Tonya composes narratives for businesses and start-ups through Partnership for Economic Development, Jill creates content on social media and blogs for RiverScene and the Convention and Visitors Bureau, and Larry (former personal stuntman!) wrote an action movie ("Hot Water") that goes into production this September, which he'll also direct and produce.
—–
More about our Panelists:
—–
Tonya Krueger
is the Associate Director of the Partnership for Economic Development (PED), a public/private sector organization. The PED works as a team to creatively cultivate ideas to encourage economic growth, advocate for local business, lead project-based development, and help foster cultural growth in the start-up community. Tonya specializes in composing narratives that are artfully and intelligently developed while also working closely to support organization and leadership goals, facilitate entrepreneur programs, and help contribute to the vast array of PED projects.
IG: @tonya_marshea
—–
Grace Usher
is a freelance content writer. She found her passion for writing at a young age in poetry winning multiple poetry awards in her youth. In college, she found a talent in research papers, eventually receiving an Outstanding Achievement in English. She was an English tutor for Mohave Community College, eventually became the Coordinator of the Student Success Center. She is currently a Staff Writer for RiverScene Magazine as well as a Blog Writer for the Convention and Visitors Bureau. Grace's favorite stories are Citizen Spotlights and Day/Weekend Trips. She hopes to explore all forms of media including radio, television, and podcasts. Her future goals are to be a travel journalist and join the Peace Corps.
IG: @thatjilliangrace
—–
Larry Rippenkroeger
was one of the original stars in the jet ski world. He is a four-time World Champion that innovated many of the freestyle tricks still used in competition today.
Upon retiring from competition, Larry's professionalism and expertise in the watercraft industry lead to a coveted role as the color commentator for ESPN's weekly pro tour broadcasts. As his experience grew, Larry went on to produce and direct numerous segments for ESPN and Sports-I (ESPN Japan).
In 1994 Larry began to fulfill his second childhood dream with an opportunity to work as a stuntman on his first feature film, Waterworld. From there, Larry worked his way up in the stunt industry to become one of its top performers having worked on over 100 feature films to date. He also became the personal stunt double for stars like Bruce Willis, as well as Bryan Cranston on the famous series Breaking Bad.
Now Larry is starting the next chapter in his life, writing, producing and directing. His directorial debut is a movie he wrote called Hot Water which goes into production in September.
IG: @larryrippenkroeger
—–
All ages welcome. If drinking, ID's are checked @ the door.
—–
Thank you to our partners ASU Lake Havasu City, Partnership for Economic Development and College Street Brewhouse & Pub
Details
Date:
July 11, 2018
Time:
06:00 pm - 08:00 pm
Event Categories: