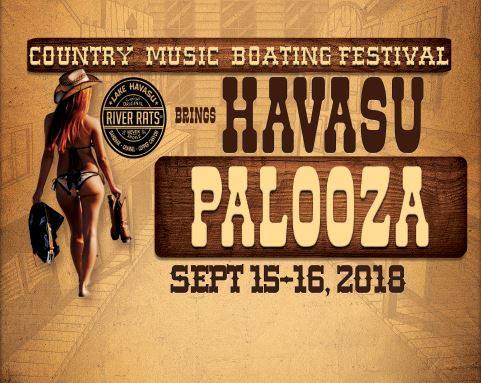 On Saturday, Septemeber 15  11am-5:30pm is Havasu Palooza Country Music Boating Festival.
This event is a floating stage on the lake near Beach Shack Rentals. Vendors will be on shore and on water. Lifeguards will be on duty.
On Sunday, there will be a boaters meet up in Steamboat Cove. No bands.
Bands that will be performing are: Brad Johnson and Killin Time Band, Redneck Rodeo, Chris Lozano & The Dixie Playboys, and Tina Michelle and Rhinestone Cowboys.
Admission Prices:
Children under 14 are free
General land admission: $20
General water admission: $20
VIP Front Pit Boat Parking: $150 plus $20 per person (limited space)
To purchase tickets, visit: https://www.eventbrite.com/e/havasu-palooza-country-music-festival-tickets-47676495682
Day of concert, tickets will be sold on land and in water. Cash only.
For further information, visit https://www.facebook.com/events/609989176014156/
Details
Date:
September 15, 2018
Time:
11:00 am - 05:30 pm
Event Categories:
Website:
To Date:
September 05, 2018
Organizer:
Havasu River Rats
Website: