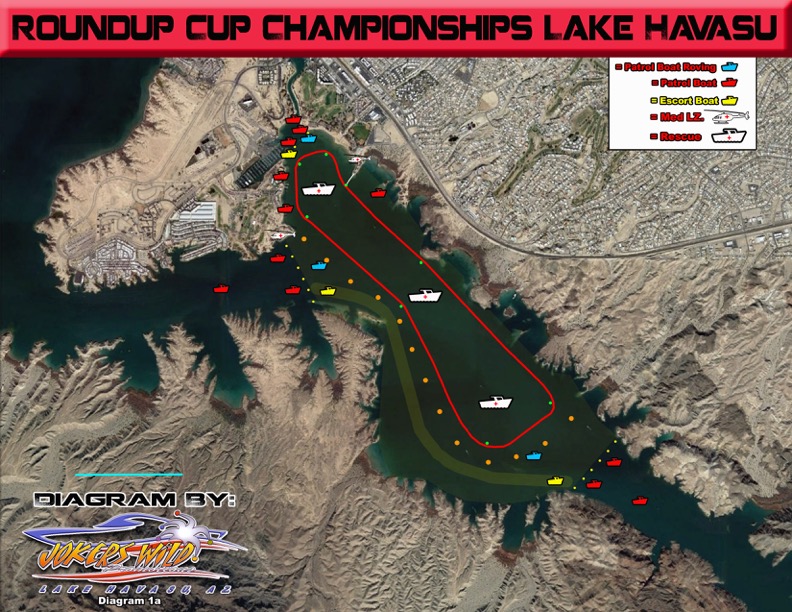 Lake Havasu CVB Press Release:
A new three-part offshore racing series will be debuting on Lake Havasu this weekend before heading to the Pacific Ocean to round out its season.
 
"The Offshore Racing Organization (ORO) immediately chose Lake Havasu to begin its RoundUp Cup (RUC) season due to the lake's history of welcoming safe speeds on its waters," said Bill Krauss, ORO owner and RUC organizer. "After Havasu, our racers will hit the Pacific Ocean waters from Long Beach to Newport Beach, and then from San Diego to Mission Bay."
 
Race organizers worked diligently to try to minimize the few scheduled full closures of the lake and river heading south from the Island. Krauss said the full closures should last about 30 minutes at 8 a.m., again at 9 a.m., and at 10 a.m. on Saturday, Sept. 30.
 
The race course is a roughly 5.4-mile circular lap route extending from Thompson Bay south to Copper Canyon, which will have intermittent temporary boating restrictions from Friday, Sept. 29 through Sunday, Oct. 1.
 
The Arizona-side along the race course will be completely closed to boat traffic during the scheduled races. On the California-side of the race course, two boat safety lines will either flag boaters through or escort boaters through, however, all boaters are required to stop at the boat safety lines until they receive a flag or an escort. One boat safety line will be near the Island and the other boat safety line will be near Copper Canyon.
 
"The organization strives to be mindful of weekend visiting boaters and lake traffic by providing as much possible boating access around our event safety zone as possible," Krauss said.
 
Course testing is scheduled from 8-11 a.m. and from 1-4 p.m. on Friday, Sept. 29. Races are scheduled to begin at 10 a.m. on Saturday, Sept. 30 with a second heat scheduled for 11 a.m. A call-out race challenge is scheduled from 11 a.m. to 5 p.m. on Sunday, Oct. 1.
 
The race classes for Saturday's heats range from 24-feet production, 550-horsepower, V-bottom classes to 55-feet unlimited horsepower Catamaran classes; those classes are no longer accepting registrants.
 
However, the call-out challenge scheduled for Sunday will accept registrations from interested boaters up until the start of Sunday's event. Race organizers are also looking for boating volunteers to assist with on-the-water logistics for the event. 
 
The ORO headquarters is at the Nautical Beachfront Resort at 1000 N. McCulloch Blvd. Spectators who wish to watch the races are encouraged to watch from either Rotary Community Park at 1400 S. Smoketree Ave., or from the Nautical Beachfront Resort. London Bridge Beach will not provide optimal race viewing.
 
Krauss said that he hopes to continue to grow the event to welcome spectator interaction, but he is concentrating on the racers and race logistics for at least the first year.
 
"We are looking forward to enhancing the event year-after-year to become one of Havasu's favorites," he said.
 
For more information on the event, go to www.offshoreracingorganization.com. To volunteer for the event or to register for the call-out challenge call Krauss at (714) 470-2399.
Details
Date:
September 28, 2017
Time:
12:00 pm - 05:00 pm
Event Categories:
To Date:
October 01, 2017
Organizer:
Bill Krauss (714) 470-2399
Phone:
(714) 470-2399
Website: