By Brenda Mitchell
Yonder Park is located at 3884 Yonder Drive off of Cherry Tree Drive. Offering several different amenities, the park features something for nearly anyone. With a full playground, the park includes a bocce ball court, half-court basketball and horseshoe pits. A large picnic ramada is available for public use and the grounds also feature a natural trail for the enjoyment of walking and hiking.
The Lake Havasu Area Chamber of Commerce Leadership Development Class of 2004 was faced with the task of selecting a project that the class could complete as a team. The goal was a complete project that the community could utilize and benefit from for years to come.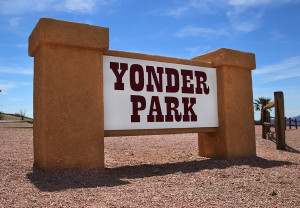 Class members met with the Lake Havasu City Neighborhood Parks Foundation and were shown several park sites around the community that were owned by the city not yet developed.
The class decided to develop Yonder Park as it's class project, partnering with the LHC Neighborhood Parks Foundation to pool funds and provide certain elements for the park site. The park opened on May 15, 2004.
For the latest stories, photos, live videos, news, and events around Lake Havasu, check out our website at riverscenemagazine.com and Facebook page at https://www.facebook.com/riverscenelive