Alvin Miller:
Happy Father's Day to the greatest day anyone could ask for…Alvin Miller. Thank you for all that you do for our family and others. You have been a GREAT role model and couldn't ask for more. I'm grateful for another year to celebrate. I'm grateful everyday that you fought cancer and won! Have a GREAT weekend at your favorite place. Love you – Teliza and Family
John:
Happy Father's Day to my funny, smart and loving Dad! I love and miss you and send you a big hug from Eugene to Lake Havasu! Hope to see you soon!! Love you Pop, ~Cindy
Chris King:
Thank you for being such a great daddy.We love you bunches!! Lexie, Tristen, Zach, & Dylan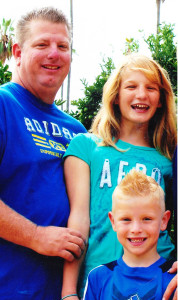 Greg Bruekner:
Thank You for being such a great daddy!! You are there for us all the time, even on top of all of your work. Enjoy your day to rest, because you deserve it!! 🙂 Love You!! Lyndsey and Paul
In memory of Jim Molitor from the Molitor Family: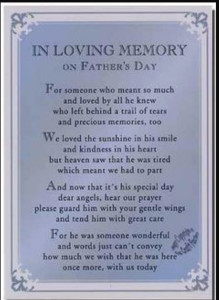 Ruben Magdaleno: Dad,
Dad,
In your eyes I've seen Gods love; in your words I've seen His wisdom; through your life I've found His grace.
Love Always,
Ruben Jr, Jacob & Jayden Magdaleno
Ike Webb:
Dear "Fasia,"
I know I tell you this all the time, but I just hope you realize how proud I am of you and what you have accomplished! You have been my superhero since day one and one of the greatest role models I could have ever asked for. I am sure you have your hands busy with the new bed-bug pup Dillon, so I would like to wish you a most triumphant Father's Day 🙂 Oh yeah, Love you too!
Chris Gall:
Dear Dad,
You have showed us so much in my life that we wouldn't be able to see alone, you have been a great father and I thank God everyday that he gave me you as the best dad and to teach me right from wrong. You have raised us four girls and you let us learn from our mistakes, we're so very thankful to have still have you in our lives. You gave us a lot of support to achieve anything In life and to strive for the best! You always gave us great advice in sports and anything we put our minds to! You always kept our heads up when we were down. You know exactly what to say to comfort us when we need it the most. Those simple hugs telling us how proud you are of us really did make a difference to know how proud we were making you. I thank you for being the best dad you can be. That's all I could ever ask for! Happy Father's Day to The worlds best day. We love you
– Addyson, Taylor, Mandi, Terri
Jimmy Danielson:
You are such a rad dad! Whether it's playing basketball with us, working hard to provide for your family,  or taking us for ice cream, we love you and couldn't ask for a better daddy! Sleep in today, play with your favorite dog, Dallas and enjoy your day! Love you bunches, Sierra and Sienna