Lake Havasu City residents  stand keenly aware of the value of our close-knit community. Yet, aside from cool crystal waters, golf courses raging green throughout the desert heat and local Main Street events, there is something different, individually unique about the residents of the city itself that compliments the town's charm.
Simply put, Havasu cares. The strong sense of community not only allows for the ability to lend a helping hand when called upon, but also the willingness to do so without hesitation.
Sadly, it's often the result of hardship or misfortune that such compassion emerges and gains momentum.
KEVIN SHEPARDSON:
As Kevin Shepardson, a 40-year Havasu resident, spent a late January morning as co-owner of local Lakeside Tire & Auto, he held neither ominous nor auspicious indications of what that evening's New Year's would hold in store. The day wearing on, SueEllen, Kevin's wife, a local Love's employee, herself remained hard at work when a simple text changed their family's year, and lives.
As the snow started to fall upon our tiny town, SueEllen glanced down to receive her electronic message, unaware that her evening now would no longer be spent ringing in the New Year. In what would otherwise appear as little more than on-the-clock communications, SueEllen's heart felt as if it has stopped as, glancing down she received the news from a Lakeside coworker that Kevin had collapsed and was unresponsive. The holiday vanished.
Helpless, SueEllen processed the rapidly evolving scenario threatening her husband's life, as a diagnosis for Kevin's condition became apparent as cardiac arrest.
With the full weight of Kevin's battle bearing down, emergency life-saving procedures were set in place by first-responders. Following his immediate medical evacuation from Lake Havasu City to Las Vegas' Sunrise Hospital, SueEllen looked on as Kevin was placed into a medically induced coma with the hope of stabilizing his condition.
Days drug by and ran together as SueEllen waited beside her husband. Following his 14th day of unconsciousness, a tracheotomy was performed as the insertion of breathing and feeding tubes became necessity.
Affected by confirmed global brain damage, referred to also as brain ischemia – a condition resulting from an extended loss of oxygen supply to the brain – Kevin's under-circulated brain tissue was dying, as SueEllen waited.
Vegetative and feared permanently brain-dead, Kevin's condition remained precarious as long days became passing weeks, Kindred long-term patient health care was presented to SueEllen as an option for her husband. Holding tightly to her courage and personal faith, SueEllen questioned the seemingly uncountable doctors traversing her husband's medical room over days regarding her husband's future potential and likely outcome.
Kevin's situation grew more precarious each passing day, with SueEllen, all the while looking on at her love, found encouragement in the notion there was always a hope, no matter how small, her Kevin would come back. As he lay unconscious and unaware, it was this small spark of hope that kept SueEllen going.
Medical costs already soaring and emotions far beyond strained, the tragedy of the family worsened, with Kevin's medical insurance unwilling to provide coverage for his necessary relocation to Phoenix's Kindred for post-acute health care. Backs up against the wall, the Shepardsons were unaware of the relief shortly to arrive in the form of a financial outpouring of support coupled with a fantastic unlikelihood.
Following the initial struggle in the coordination of transport for Kevin from Havasu to Phoenix, the first in a sequence of events took form, with Havasu Regional Hospital's Julie Sasseen going beyond her call of duty, arranging air transport to Phoenix at cost.
With Kevin being administered the level of care he required, the Shepardson family, still reeling from their tragedy, drew strength from their faith, as SueEllen waited on. Battling finances as equally as their grief, without SueEllen's knowledge, a Go Fund Me account had been activated by the Shepardson's daughter, setting stage for further surprises.
Popular news, sports and weather reporter, Kevin's name was well-recognized by residents touched daily by his inspirational quotes and messages broadcast from Havasu's Good News Today forum. That resulted  in an  outpouring of support from the community, resulting in a cumulative $31,000 by 201 donors over a three-month span.
Completely taken back by the community's response to their plight, further unforeseen developments continued to happen. SueEllen, still waiting, remained hopeful, grateful for her many blessings when suddenly, on Jan. 23, Kevin woke up.
Regaining sudden consciousness and nearly panicked, SueEllen recalls Kevin's arms flailing and holding no recollection of the events which had transpired. Released from hospitalization on March 3, against all odds, Kevin and SueEllen Shepardson went home together. Astounding as the family's experience had been, perhaps more amazing was Kevin's completely unanticipated and rapid recovery. With "enormous thanks and heart-felt gratitude through such a humbling situation," heartfelt gratitude toward Kevin's Lakeside co-workers, Go Fund Me donors, the Lakeside Heart & Vascular Center, Love's and so many others, Kevin looks back now through video at his family's February celebration of his birthday, SueEllen at his side, no longer waiting.
SABRINA HERRELL: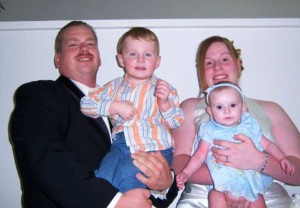 Similar sincerity from within the community was displayed this February in the passing of Daniel Herrell.
An employee of London Bridge Resort, Daniel operated as kitchen manager with pride. An avid sport shooter and family oriented vacationer, Daniel enjoyed the majority of his time off the clock surrounded by the company of his wife Sabrina and two young children, Jacob, age 10, and 8-year-old daughter Cheyenne Herrell. Absorbing the February afternoon at play with the family dog, things began to change.
Feeling dizzy and not quite himself, Daniel excused himself and walked to the bedroom he shared with his wife to find relief from his symptoms.While passing the couple's bathroom, Daniel lost consciousness while standing, collapsing to the floor as his head crashed onto the tile beneath him.
Hearing Daniel's commotion, Sabrina rushed across the hall to find her husband splayed across the bathroom floor, unresponsive. Panicked, Sabrina shook Daniel, waking him from unconsciousness, leaving her to determine her husband's situation, while struggling to maintain her calm and collected role as mom.
In terror Sabrina phoned a close friend for help, who then advised her to hang up and to dial 911. In need of emergency assistance for a likely concussion, Daniel argued adamantly against hospital treatment. Sabrina persisted and emergency services were summoned, with Daniel being admitted to Havasu Regional Medical Center.
As afternoon became evening, the evolution of Daniel's complications had become apparent. Through a single fall collapsed the hopes and future of a man and family, as the Herrells received information that Daniel was suffering from a brain bleed, or hemorrhage. As his situation was rapidly progressing away from recovery, an incredible air of confidence and comfort was provided to his family by Daniel himself.
Repeatedly glancing toward Sabrina as she sat across from his hospital bed, Daniel proposed two potential outcomes: He would either overcome his injuries, or, as he told his wife lovingly with a smile, "he already knew where he'd be going." As time passed, Daniel's condition worsened as blood clots formed in each lung. His hemorrhage still a primary concern, its continued bleeding prevented the use of any anticoagulant treatment utilized to address the clotting inside of Daniel's lungs.
On Feb. 3,  as he lay in his hospital bed, a blood clot broke loose from its place in Daniel's lung, traveling to his heart ending his life.
Thrust suddenly into the role of grieving widow and single parent, Sabrina felt lost, with no inclination of where to begin. A young man with his life ahead of him, Daniel held no life insurance policy to offer relief from mounting funerary costs and daily expenses now challenging Sabrina. In this great time of both sorrow and need, Sabrina Herrell found answer to her cries through the good will and kind gestures of the local Lake Havasu community.
Shocked and ever grateful, Sabrina stated her extreme gratitude to those who rose to help meet her family's need, revealing that, "had it not been for the donations received from the community and assistance from the London Bridge Resort, I couldn't possibly have done it."
Gestures of extreme care and concern spanned the town, with Redemption Hill Calvary Church providing cooked dinners to the remaining family of three. Affording Sabrina not just personal care, but also badly needed time to grasp the realities of her new life, both food and financial donations allowed her the foothold needed to remain strong and carry on.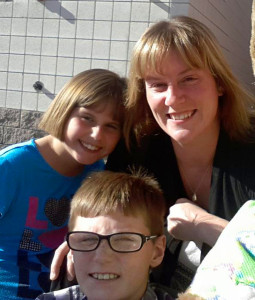 Through the extension of community condolences, Sabrina and her family have once again begun to thrive. Completing her Certified Nursing Assistant testing, Sabrina now accounts having "gained many more friends and people to talk to" through her saddening experience.
Striving to remain productive, Herrell is postured for great future potential, their children remembering their father fondly. Such strength and motivation to continue on for the sake of living life for her children is one shared and empathized with by another local family who found the will to survive through necessity.
ZOEY LYON:
Longtime residents of Lake Havasu City, now living in the Mesa area, the Lyon family operated as many families do.
Krystal Lyon, wife and mother of three, led the fairly quiet life with the often noisy duties of a typical mother. Rising early for school each week day, managing the shuffling of kids and balancing of daily tasks were par for Krystal's normal course.
This balance, though unknown to her, was not to last, as, toward the end of last September devastating news was delivered to the family. Their 7-year-old daughter, Zoey, had been diagnosed with Acute Lymphoblastic Leukemia, a form of cancer, referred to commonly as A.L.L.
Following the initial devastation, Krystal and husband Kris were offered the present as the best time for response. Forced into action by necessity, a blood smear was performed to reveal the extent of young Zoey's medical condition and best options for treatment and survival, calling for the immediate administration of treatment to the child.
With great hopes for her daughter's health and future, Krystal, a uniquely strong woman, wept when told her child's best option for treatment was chemotherapy. Other treatments taking place included the need to surgically place a central venous catheter into the girl's chest to allow for the administration of necessary medications, while minimizing the pricks and needles young Zoey would be forced to endure.
Over the ensuing months of aggressive treatment and tightly crossed fingers, room for breath finally came to the family when, in January, fortune smiled on young Zoey. Having endured her cancer, fear and physical change, analysis of her blood smear came back with positive results. The chemo had worked.
While not entirely out of the woods, Zoey follows a strict two and a half-year treatment plan, designed to treat her leukemia in phases as is typical for the disease. With January 2017 scheduled as the end date of treatment, Zoey lives her life much like any other young child, with previously shaved, shortened hair, the only clue that cancer had ever afflicted the small child.
Having rehoused the family pets to safeguard Zoey's sanitary needs and compromised immune system immediately following her diagnosis, the 7-year-old was forced through necessity to say goodbye to her domesticated friends. No fresh flowers or herbs were welcomed inside of the Lyon home for fear of the danger carried molds may have for their recovering daughter.
Heartbroken, the parents had an idea for surprise.
With each day of recovery following her return home, Zoey's thoughts became centered on a pet to care for and call her own. Daily requests accompanied by begging, batted eyes, indeed, did not go without notice. Yet, entirely unaffordable remained the $2,000 French Bulldog young Zoey had specifically and so conveniently requested of her parents.
The family was unsure of how to maneuver the situation, so in stepped the local community with the resolution to provide this brave little girl with the puppy she so clearly deserved.
Without initial knowledge to the family, local resident Tosha Beebe, installed a Go Fund Me account to allow for the communal funding of young Zoey's request. Spreading steadily throughout the local community via social media, residents responded by pledging the majority of all donations received, furnishing also the grand pup itself by means of a local breeder who, upon hearing of Zoey's triumph, lowered the cost of the pup to allow for its purchase. Following an exhaustive search that spanned across both coasts, such great generosity was to be found right here, within our own small town.
Now 8 years old, Zoey plays alongside grey and white "Rosie," now 4 months old.
Zoey returned to elementary school in March in Mesa, located near the Phoenix Children's Hospital where Zoey receives the majority of her care. As normalcy begins to return over time to the growing girl's life, her prospects for the future remain as incredibly bright as the small girl herself.
The gaining of strength and the battling of her condition a constant, Havasu residents helped to provide perhaps one of Zoey's most important resources; a friend to stand and battle alongside her.