We asked our readers to send us their Havasu Valentine stories and you delivered. We have love stories that blossomed right here in Lake Havasu City. Some couples relationships started in the early school years and have been maintained for many years. Read through these couples' stories and see if you can spot any similarities between them.
Amy Conway
My husband and I meet at Lake Havasu High School in 1990. We became best friends in high school, we dated then married in 1995. This year we will be celebrating our 20th anniversary. And yes, we have always lived here since high school and still live in Havasu.
Karen and Rodney Schnuelle
Rodney moved to Lake Havasu in 1972 from Scottsdale. He said he fell in love with me at first sight! He started writing notes to me daily professing his love and telling me that I was the one he wanted to marry! I was only 13 and dating had never occurred to me. He managed to get a seat next to me in science class. I remember looking at him one day after lots of ongoing attention from him and all of a sudden I liked him too! We decided to "go steady." Our first date was Feb. 9 1973. We went to the junior high Valentine's dance together. When baseball season started in the spring, Rodney was patiently waiting for a first kiss. He made a deal with me that I would have to kiss him for every home run he got in the upcoming baseball game.I thought that was a pretty safe bet. However, Rodney got three home runs that game! We dated through junior high and high school. Rodney asked me to marry him at the Senior Prom 1977. We were married the following spring April 8,1978, under the London Bridge.
Our love has created a beautiful family. Our oldest son, Matt and his wife Monica, have two little girls Madeline 7 and Melanie 4. Our daughter Melissa and her husband Jonathan have two little girls, Jocelyn, 2, and Addy, 1. Our son, Mark and his wife Dara, have one daughter, Emma, 1. We are currently living in Mesa, Ariz., and starting to build our dream cabin in Pine, Ariz. Life is good. Thank you Rodney, for finding me.
Sarah and Mike GANAS
I met Mikey when I was in eighth grade and he was in 11th. A friend actually introduced us and we have been inseparable ever since. We have been together for 20 years and have been married for 15 years. We have three kids: one girl and two boys. Everyone is surprised when they find out that we were high-school sweethearts, but I wouldn't change it for the world. The most romantic Valentine's that I can remember is when Mikey surprised me with a home-cooked meal and had little heart-shaped hearts hanging from the ceiling and made little heart-shaped cakes in my favorite flavor – strawberry. There has never been a Valentine's that I don't get flowers.
Heather Ward
Leighton and I met in high school, he held the door open for me at the lunch room at Lake Havasu High! We dated 1 1/2 years then married 1993! My favorite Valentine's Day together was waiting for our table for two hours at Houston's in Scottsdale. This was before our two girls – 3 1/2 & 7! We just had no care in the world but being together.
Terry (Weber) Trinko and Thad Trinko
Thad and I met in January of 1970. I was actually the first person he met when his family moved to Lake Havasu City. We started dating in September of 1974. I was a senior in high school and Thad was a Junior. He was a football star and I was a cheerleader.Yep, we were THAT couple! I graduated in June 1975, and my parents sent me to Wisconsin to stay with my grandparents for the summer. They thought it would "cool" our relationship. It didn't work. I cried for two weeks straight and ran my grandparents long distance telephone bill up calling Thad every night. My grandparents bought me a plane ticket to Las Vegas, made arrangements to have Thad pick me up and didn't tell my parents I was headed home until I was in the air somewhere west of the Mississippi River. Thad finished high school early, graduating in January 1976, and we were married a month later on Feb. 28, 1976. Thad became a volunteer firefighter while still in high school and in December 1976, was hired as a full-time professional firefighter. I spent the next few years as a "stay at home mom" and worked part-time at the Fire Department as a secretary and public education specialist and eventually found my way back to Lake Havasu High School as the cheerleader coach and a receptionist in the mail office. Thad spent some time as a volunteer assistant football coach at the same time. We made it full-circle! We have been together 40 years, married 39. We heard it all… every reason why we shouldn't get married, how it wouldn't last, we were too young, etc. We often say "We didn't think failure was an option. We just always believed WE were worth the ups and downs, ins and outs, good times and bad times … and never gave up." We are now both retired and enjoying life!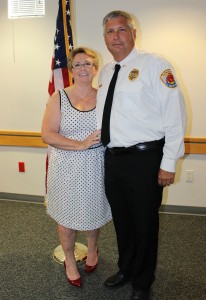 Jessica Eidson
James Eidson & I met in high school through some mutual friends. I had a lifesaver and asked him to marry me. It must have been fate that day… As we are still going strong 20 years later & loving our life in LHC!
Evie Cistaro
Our daughter, Gina Schwab, went all through school here and graduated in 1987. When she was 16, she started dating Sean, also at LHHS. On Valentine's Day 1992, they were engaged. They Married May1,1993, and their son, my grandson, was born on Valentine's Day 1998.They both work and Live in Lake Havasu, and Jake attends LHHS. Gina has lived here for 42 years. To make the story even better, Joe and I got engaged on Valentine's Day 48 years ago.
Keith and Rainee Crabtree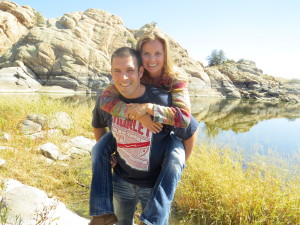 Keith and Rainee Crabtree are Lake Havasu High School Alumni and high-school sweethearts who will celebrate their 15th wedding anniversary this May! Keith and Rainee said, "We knew each other for quite awhile before we dated, but there was one night that brought us together forever. This night began with Keith and I more or less being forced to talk to one another at my friend's house while our friends were busy making out! Do you remember just how long you could make out for when you were in high school? Anyway, we laid outside on the driveway, gazed up at the stars, and began to build our friendship. From that night on there was no one either of us would rather talk with. Being that we officially started "going out" four days before my 16th birthday made it so that we dated for six years before getting married. Keith proposed in Sedona, toward the end of an absolutely beautiful hike, we had a magical wedding eight months later and celebrated our love and youth before welcoming our first son three years later. It is certainly statistically unlikely that high-school sweethearts will get married and sustain a healthy marriage, but thankfully as Rainee and I grew up, we naturally followed the same path. We were equally yoked. We have experienced the richer for poorer, sickness and in the health, good times and bad, etc., and each joy and challenge developed into a gift in the end. When we think of our favorite Valentine's Day we both think of our first Valentine's together when we were still in high school. Both of our mornings started out rough with Keith getting a flat tire on his Chevette on the way to school, and with Rainee burning herself with a curling iron. Despite this rough start, our day ended with butterflies and pure joy as we shared our homemade gifts with one another. Valentine's Day is a day to celebrate love, but not an especially important day to us, because we intentionally focus on our marriage throughout the year. How do we keep our marriage alive? We kiss, we laugh, we support one another, we work out together, we spoil one another, we hide love notes for another, we go to bed at the same time, we talk a lot, we pick our battles, we dance, we let the other sleep in once in a while, we flirt, we go to church together, we serve together, we remember that our marriage is amazing – even in the moments life is not.
Monique and Ray Apalategui
Ryan and Brianna Mattice Ryan and I met, officially, one weekend night when our fellow alumni Julie Stromer invited me out. She picked me up in her car and she had a friend with her. We cruised around all night long and eventually made our way home. I remember nothing significant from that evening, other than I hung out with Julie and her friend. Fast forward five years and a similar scenario occurred, only this time I am invited out for an evening at Mad Dogs. It was mid-week and I was doing laundry. I threw some jeans and a T-shirt on and drove down to meet my friends. While I was there, a handsome fella walked through the door. He was glowing and I knew instantly I was in love with this guy. We talked until 2 in the morning. When it was time to say goodnight, I gave him every method possible to contact me and when I woke up the next morning I told my mom I had met the guy I was going to marry. Two weeks later,he called. One year after that, we were living together. Seven years after that we were married. Fifteen years alltogether we are still in love and going strong. We often laugh when we talk about that evening with Julie Stromer because I never had a clue that it was actually Ryan in her backseat. He remembers so much more of me from high school than I do of him because it took me a long time to not be shy around boys. We have had a lot of Valentine's Days together, but none stick out because Ryan makes me feel very special and very loved every single day. The greatest gift I have been given are our two beautiful children and every day that we have together. We have walked our path together through thick and thin and we are stronger because of each step we have taken. A very special thank you to Toni Ade for helping gather couples from Havasu's early years!