By Nicole Matheson
Sometimes the greatest ideas begin as whims of fancy, but then evolve into impactful happenings going on all around us. You may have seen painted rocks around town and maybe even posted yourself in the Lake Havasu Rocks Facebook group, or another. Some of us have even painted and hidden "kindness rocks" to be found, such as Connie Noble.
"I was an admirer of the rock community for a couple years before I finally thought, 'This would be kind of fun!'" Noble reflects on how it all began, specifically how it caught the attention of her husband, Steve, who had begun to whittle small carvings of old men with pointed hats and long beards.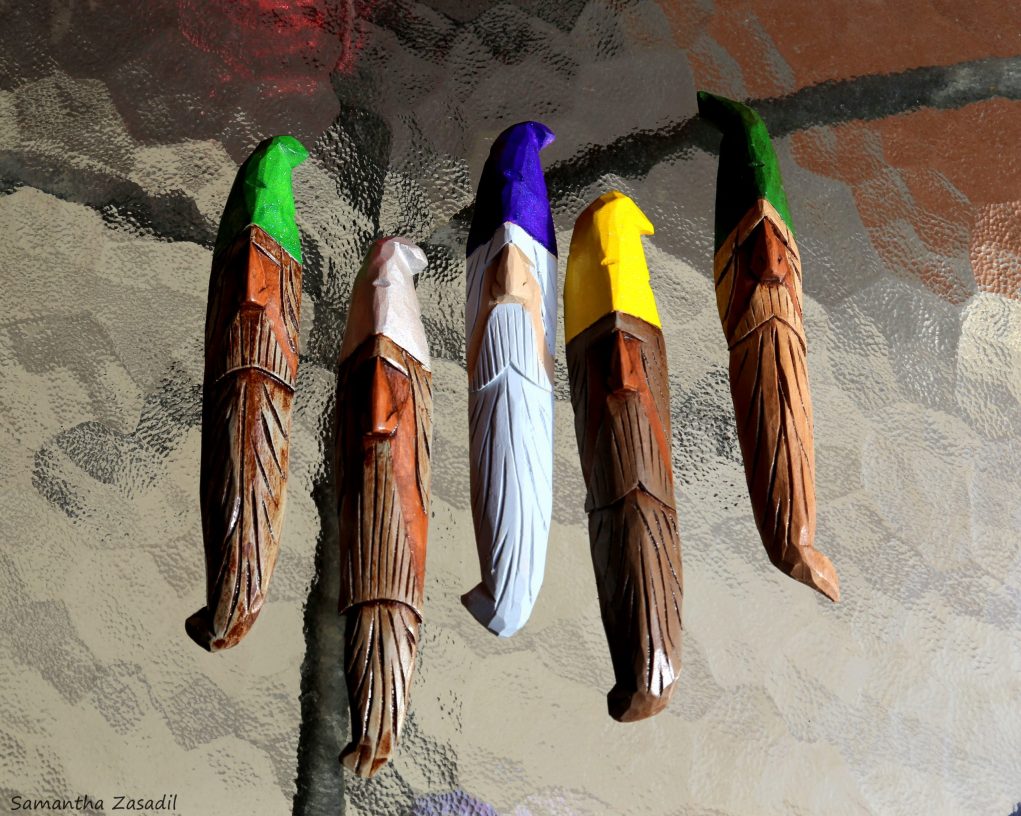 Samantha Zasadil/RiverScene
"Steve just saw how much fun I was having painting rocks and hiding them. So one day he said, 'I'm gonna hide one of my carvings.' And I'm like, 'But it's not a rock!'" In spite of this observation, the hidden carving was a hit. "It was welcomed with open arms. We have so much fun."
On the Lake Havasu Rocks Facebook group and other such groups, Havasuvians post pictures of the kindness rocks they have either painted and hid, found and re-hid, or simply kept. Although Steve's carvings are certainly not rocks, his contribution to the community was well received as a rare exception to the rules that continues today.
The Nobles, who live close by Rotary Park, will hide the cute old men carvings and leave clues on the Facebook group page for others to follow and find. The carvings themselves Steve insists are no stroke of genius. "You can do anything online," he says as he whittles on a piece of basswood, his preferred choice for the little old men.
Steve picked up the hobby a couple years ago during the COVID-19 outbreak, despite having never done anything like this before. After whittling the old men, he paints the hats with acrylic paint and uses a stain on the rest, which antiques the carving. Then with a finishing spray to make it shine, the carvings are ready for hiding in the park.
These carvings are so popular, sometimes they are found as quickly as they are hidden. "We were walking a little bit later in the park, it was just getting dark. We thought, we'll hide one tonight and we'll post it in the morning that way it's already there. We got home and it was like 9 o'clock and Steve's like, 'Well, why don't you post it tonight that way people know it ahead of time.' And this couple went out with flashlights and found it that night and they said, 'We just want to thank you because we're a young couple that sit at home on Friday nights and play video games. Thank you for getting us out of the house!'"
This isn't the only story the Nobles share. It's clear that these little old men carvings have sparked something, just like the painted rocks have. And because the Nobles live so close by, they often get to see the search for their carvings as they unfold. Steve shares, "You can tell when people are looking. I remember there was a girl last year and I go, 'You look like you're looking for something!' She says, 'I am! I'm looking for the old man!' I go, 'You're really close!'"
"So many people have said, 'You've brought our community together.' Well, not really, but they feel that way!" Connie says, referring back to the Lake Havasu Rocks Facebook page where it is all possible. "I've never been on a Facebook page where there was no drama. Everyone is so kind."
Janette Watson is an admin on the Lake Havasu Rocks Facebook page and has been a member since roughly 2017. Part of her job is to approve member requests, as the page is closely monitored to ensure the best experience for everyone. "It's become a hit now, it's like a treasure hunt," she says of the Nobles' hidden carvings.
Although the page is definitely focused on rocks, the carvings are a sweet addition that flavors the page in the winter months when the Nobles are in town, and always takes place in Rotary Park. "It gets people out to the park to go exercise and walk around and try and find it," Watson notes. "That's what the kindness rocks are about. It's about making people happy, putting smiles on people's faces — children, adults, it doesn't matter who it is, most people are happy when they find a rock. It brightens their day, and so does this little old man that Steve is carving."
RiverScene is excited to have joined Steve on a walk through the park to hide one of his carvings — which was found and posted on the Lake Havasu Rocks Facebook page in under 2 hours.