By Nicole Matheson
Whether it's fun in the sun or singing and dancing through the nights, RiverScene magazine is here to preview what's happening in Lake Havasu City this weekend.
•The 18th Annual Bluegrass On The Beach Music Festival kicks off at Lake Havasu State Park, and runs Friday through Sunday. For pricing and more information, visit https://riverscenemagazine.com/events/18th-annual-bluegrass-on-the-beach-music-festival/ or  the festival website. https://bluegrassonthebeach.com/
•Main Street will be alive and this First Friday with live music, local artists and live demonstrations. March's featured business will be Blind Pig Tattoo and also featured on Main Street will be the young artists series. The whole family is welcome! For more information, check out the website. https://www.firstfridayhavasu.com/
•Hiking under a full moon is an option to take an interpretive guided 1.5-mile hike as the night sky lights the way. On March 6, the hike will go to Whytes Retreat. Those interested should meet at the ranger station. $3 per person. For more information, visit https://riverscenemagazine.com/events/full-moon-hike/ or call 928.855.1223
•Grace Arts Live presents the classic and much beloved Rodgers and Hammerstein musical "South Pacific". Shows will run every weekend for the next three weeks Friday & Saturday @ 7:30p.m. and Sunday @ 2p.m. Contact the box office at 928.855.2787 or visit www.graceartslive.com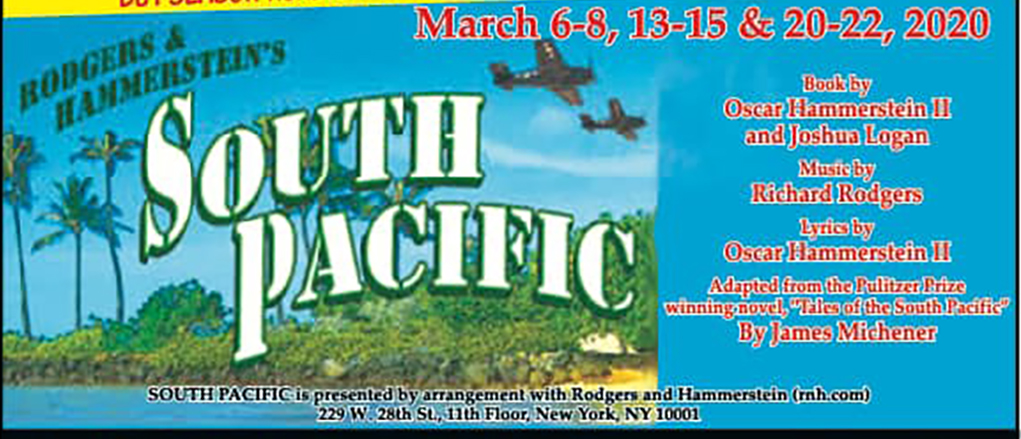 •Music will be heard all over Lake Havasu as the Country Music Festival, at the SARA Park Rodeo Grounds, happens March 7, from 4 p.m. to 7 p.m., featuring Jay Allen. Visit http://havasucommunityhealth.org/ for more information.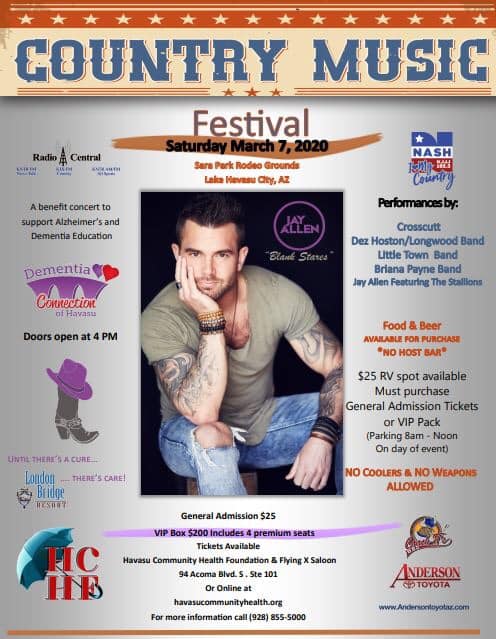 •Saturday March 7, the Havasu 95 Speedway lights up the tracks with the Get it in Gear Street Stocks, Outlaw Karts and Factory Stocks. Racing starts at 6 p.m. For more information, visit
•Fun area youth, there is Hobbies Not Habits at Mohave Community College from 1 p.m. – 4 p.m. This youth drug prevention program is bringing awareness and providing positive hobbies for Havasu youth. This week it will feature a special BMX show along with other activities. Visit the RSM event page for more information. https://riverscenemagazine.com/events/hobbies-not-habits/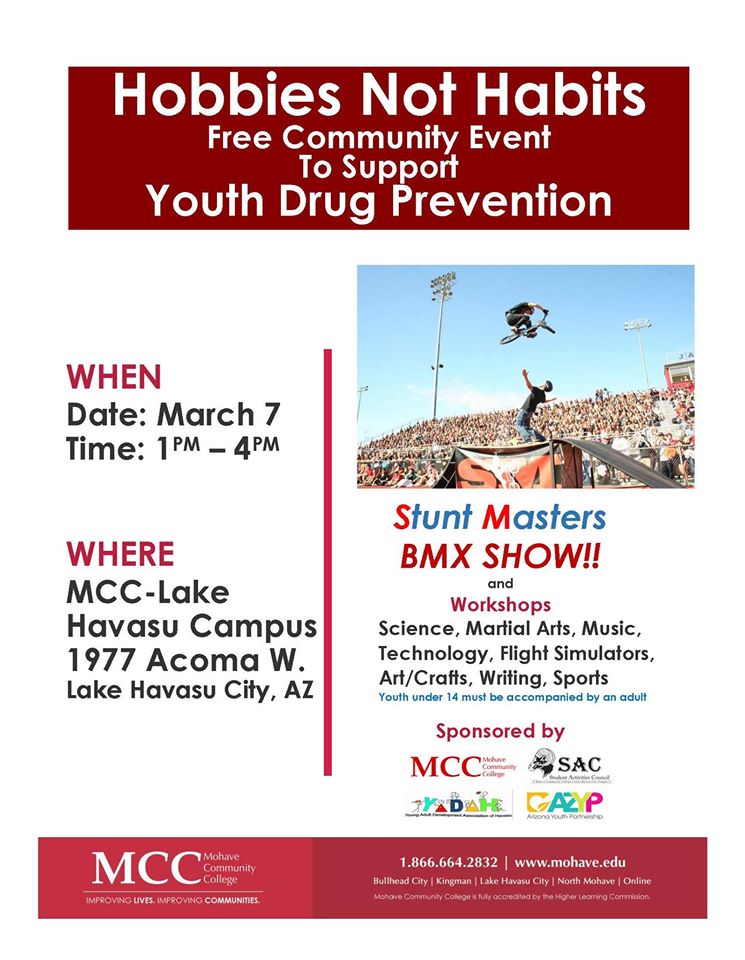 •Joseph Saccomanno, Refuge Wildlife Specialist, is organizing a force to replant native trees at Mesquite Bay that were damaged by the wildfire last October. This will be happening March 7, from 9 a.m. – 2 p.m. For more information, contact 928.667.4144 ext. 128
•This weekend is packed with entertainment as The ABBA FAB Tribute Experience will be in concert at the Aquatic Center March 8th from 7 p.m. – 9 p.m. Tickets are $20 and seating is first come first serve.  https://cofare.io/CoFare/showDetail.cofare?code=8
•And finally, don't miss Havasu Deuce Days, beginning today at 2 p.m. on Main Street (McCulloch Boulevard, Downtown District). The street will be closed off for Deuces today. Friday is a garage tour, and Saturday is Show and Shine at Rotary Park. Visit the RSM event page for more information https://riverscenemagazine.com/events/havasu-deuce-days/
For a full listing of March events and bands, visit our RiverScene Magazine online event calendar (list and calendar view) visit https://riverscenemagazine.com/calendar-event/