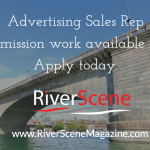 Website riverscenemag River Scene Magazine
Community News, Stories and Event Coverage for the Lake Havasu
RiverScene Magazine is a community website with on average 10,000 visitors and over 30,000 page views a month. We are seeking an independent (part-time or full-time) Sales Executive in the Lake Havasu City area.
Do you enjoy working with other people? Are you conversational and have the desire to grow your professional network? We would love for you to join our team.
No formal training required. Previous sales experience is not necessary but is preferred.
Please include a resume with your interest below.
Job Duties
Locate and contact potential clients to offer advertising services
Explain to clients how specific types of advertising will help promote their products or services in the most effective way possible
Provide clients with estimates of the costs of advertising products or services
Process all correspondence and paperwork related to accounts
Prepare and deliver sales presentations to new and existing clients
Inform clients of available options for advertising art, formats, or features and provide samples
Deliver advertising or illustration proofs to clients for approval
Prepare promotional plans, sales literature, media kits, and sales contracts
Recommend appropriate sizes and formats for advertising
Pay
Commission based pay.
Independent contractor.
Bonus opportunities based on performance.
Are you new to advertising sales? Do not worry, read about the career and see if it is a right fit for you. http://www.truity.com/career-profile/advertising-sales-agent