Chris Commisso's life has revolved around music. His entire family — parents, three brothers and himself — is musically inclined.
"I've had no formal singing or music lessons," Commisso said. "But I've loved music since I was 6 or 7 years old. I learned to sing, to play the keyboard, the piano, drums and guitar through practice because both of my parents were musical and always encouraged us to appreciate and love music. They formed a family band that we all participated in. We played at bar mitzvahs, weddings, and places like Elks lodges.
"I was born into the right family that instilled a passion for music in me."
When Commisso realized that music would always be his life's work, he took a few lessons in vocal techniques, proper breathing and how to avoid tension in his neck.
"I have a passion for expressing myself through music," Commisso explained. "I was influenced by bands like the Beach Boys and the Carpenters, and I feel that I can pay it forward through my music."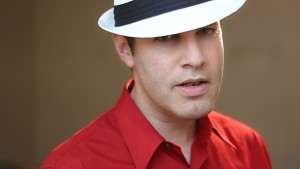 Commisso was born and raised mostly in Kingman, although he lived for a few years in Anaheim, Calif. He currently sings for two churches in Kingman, and spends a good deal of his time creating YouTube videos of his singing. He has amassed a loyal following in the past few years, and his fans started urging him to try out for the popular TV show, "The Voice."
"I watched the show and thought 'I can do that!'" Commisso said. "The only thing holding me back is my fears."
Trying out for the show was not an easy decision for him to make, because Commisso admits he has a social phobia. He's been able to circumvent the problem as long as he is in control of his performances.
"But if someone else controls a situation and asks questions, I freeze up. The fear of public speaking affects a lot of people, and I finally realized that I had to overcome it somehow if I ever want to move ahead in my musical career. I knew I had to face my fears. Regardless of the outcome of my audition for "The Voice," I have a bigger goal: facing this giant in my life and conquering my fears."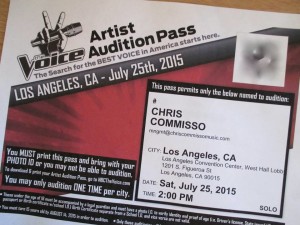 Auditioning for "The Voice" is a step in Commisso's goal of conquering his fears. Last spring, he sent in the required video of himself singing, along with a bio. He recently received a notice that he could attend an audition. "The Voice" hosts four auditions nationwide, and Commisso was given his choice of which city in which to audition. He chose Los Angeles, and he leaves early Saturday morning for the open auditions over the weekend at the L.A. Convention Center. He knows that he will be competing against more than 1,000 singers for a spot on the show. If he is chosen to advance, he will appear on "The Voice" when its new season begins in September.
"This is about more than just advancing my career," Commisso said. "It's more about overcoming a block. But I'm ready for the challenge because my hometown (of Kingman) is behind me. They have my back."
Good luck Chris, from RiverScene Magazine, the tri-state area is rooting for you!
Chris Commisso's YouTube videos can be viewed by entering his name, or the name "The Pianoshack."

You may also visit his Facebook page at https://www.facebook.com/ThePianoShack