By Becky Maxedon
The Lake Havasu City community showed their generosity Saturday, as they so often do, to support a 8-year-old battling Childhood Leukemia.
Doug "Bo" Bryson, president of the Red Iron Motorcycle Club was at Havasu Lanes to show the club's support of Ryett Van Cleave.
"We're here at the bowling alley today raising money for the support of a local family – the Van Cleave family – Ryett Van Cleave. We are at the fundraiser awarding him a check for $3,000, and that helps them get through all the financial difficulty they're dealing with," Bryson said.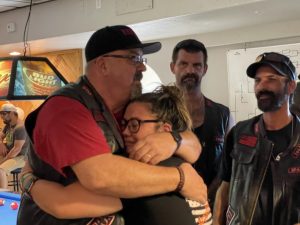 Lia Van Cleave, Ryett's mother, said he was diagnosed with Childhood Leukemia April 21, 2021.
"He had on and off fevers, loss of appetite, light sensitivity. I kept taking him to the pediatrician and calling. … Dr. Oyas said without bloodwork, it was either bone marrow disease or leukemia," Lia Van Cleave said.
Ryett was sent to Phoenix Children's Hosptial where he was diagnosed with Childhood Leukemia.
"We've been at Children's since April 21. It's been 100 days. He's on his fourth chemo treatment with over seven chemo medications, five or six procedures including bone marrow, aspirates, lumbar punctures and getting is Broviac (catheter) in his chest."
She said, "Right now, Phoenix Children's Hospital's doctors and nurses look at him and say he's the happiest kid on the floor. As parents, that makes us extremely proud, while at the same time, very saddened for the other kids on the floor."
Ryett will begin a 28-day chemo treatment and then he may be discharged for a few days and then possibly going straight into a bone marrow transplant if there are no complications.
The family will be in Phoenix until after the New Year in 2022, Van Cleave said.
Ryett is in the third grade at Nautilus Elementary School, and through coordination between his teacher at Nautilus and a hospital teacher, his education will continue throughout his treatment.
A family friend who also has a student in Ryett's class at Nautilus has started a fundraising effort with "Ryett Strong" bracelets.
Van Cleave said she is so grateful for all the support from the Lake Havasu community. The bowling alley fundraiser was organized by her friend Breezy Watts.
"Thank you for all the love and support and generosity and donations. I appreciate everyone and it's overwhelming at the same time," she said.
Jeremy Okamoto, Ryett's dad, chimed in, "It's a great community we live in."