By Cortez Fields
From the bowels of Elm Street and the shores of Crystal Lake, Terror Toys have come to bring fear to Lake Havasu City in a fun way.
RiverScene Magazine spoke to Matt Ferree, another young entrepreneur of Lake Havasu City who made horrific souvenir items into an interesting and niche horror shop for Havasu.
The Horror Connoisseur
The first horror movie Ferree saw was "Killer Clowns from Outer Space" which hooked him on the scary movie genre forever. He is also a fan of "The Nightmare on Elm Street" films, for which he appreciates the humor. His appreciation for horror films grew over the years, and he began to collect different action figures and memorabilia from these beloved horror films.
"I really love the '80s and '90s collectibles. The packaging, and the design from them is what gets me."
A Ghastly Collection
Ferree also loves the Universal movies, calling the Creature from the Black Lagoon his favorite monster. This avid love for horror cinema led Ferree to frequent horror conventions for years, and collect different memorabilia from each of them. His passion for horror souvenirs eventually led to his garage being overrun with the malevolent merchandise.
"Eventually, the collection got out of control, so we decided to do something."
Scaring Up a Business
Ferree convinced his wife, Cherice, that they could a turn a profit by buying these terror toys and selling them later. Ever the entrepreneur, he obtained a wholesale contract and began selling his products online. At first, the online sales helped move the monstrous amounts of toys they'd accumulated over the years, but the early Terror Toys quickly ran out of space at home with their simple online business.
"We decided to find a cheap space where we could store and sell everything."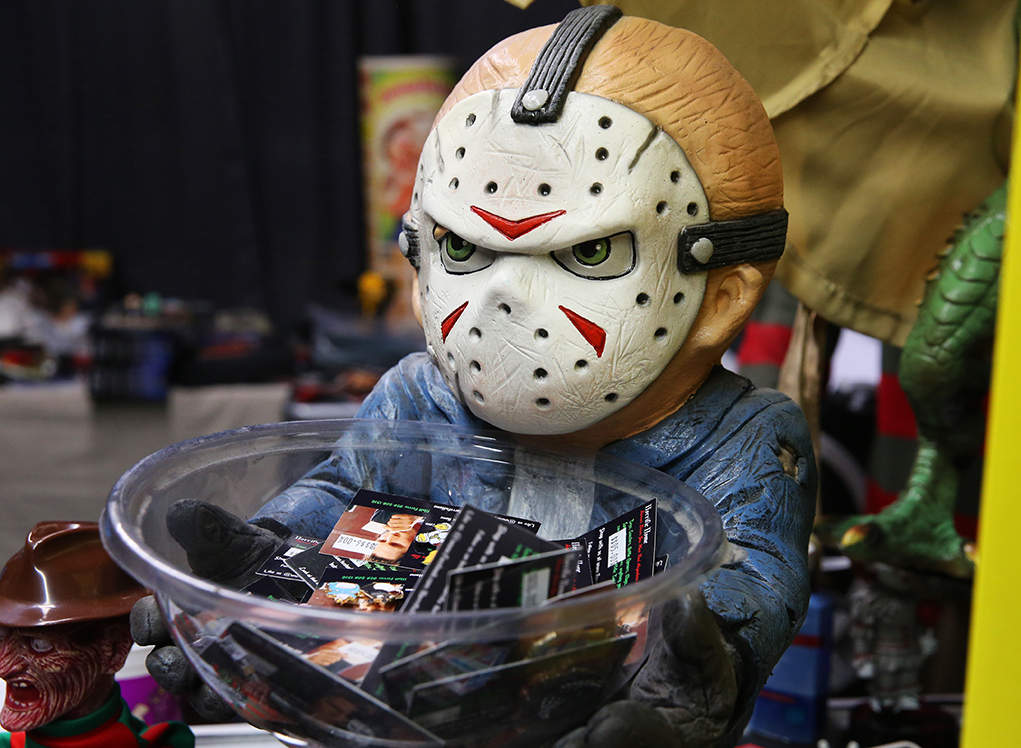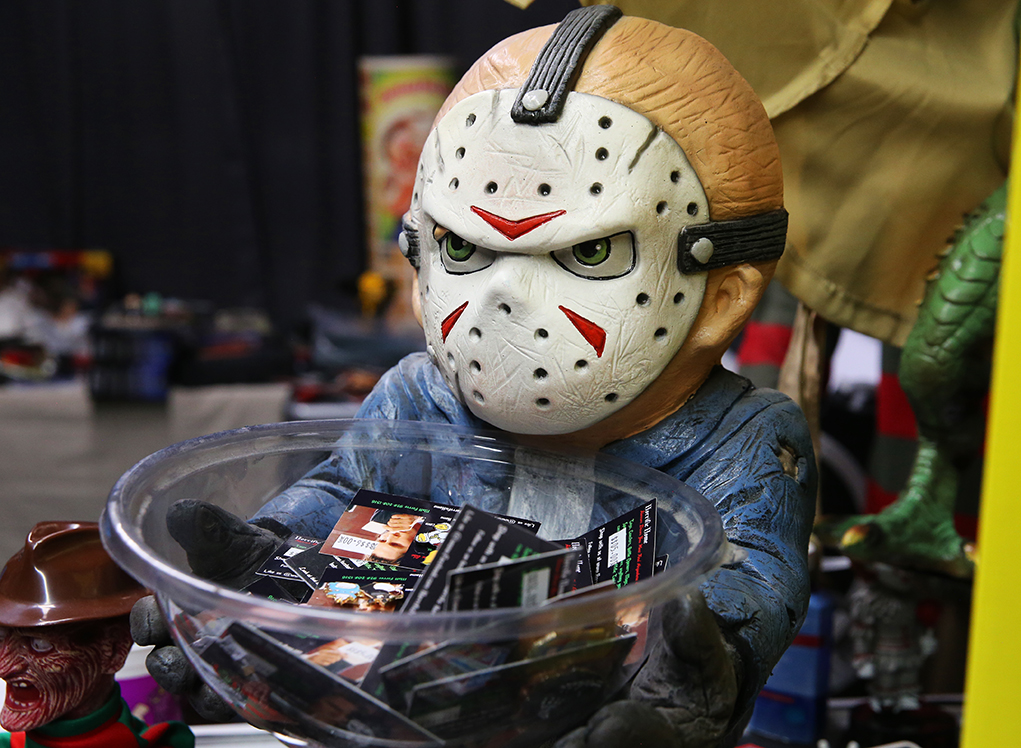 From online to brick-and-mortar
With successful online sales, Ferree moved to find a cheap space where they could sell their toys and hold their collection. This was one of the hardest parts of the process, he told us.
"We had to find the right real estate, where we could get foot traffic and a good price."
Ultimately, the couple's frugality turned into a lucrative business. Ferree discovered sublimation printing and started putting famous horror icons onto everything from plates to cups. Terror Toys also took time to reach out to broader toy shoppers by including comic books and other mainstream action figures. However, there were some growing pains for Terror Toys and its young entrepreneur.
Growing Pains
Terror Toys was the brainchild of a horror fan to horror fans. With iconic merchandise from so many different films in the genre, it is a unique store for Lake Havasu citizens to check out. However, its inventive appeal was something that concerned Ferree at first.
"No one sells horror toys in Havasu, will this work?"
He admitted that he a had a lot of doubt in his idea, and didn't expect it to succeed as much as it has. His wife and family are very supportive, helping him work the store in addition to having other jobs in the community. While he does love the new business, Ferree admits it's hard dealing with work/life balance. He was also concerned about start-up costs and financing, which he was able to figure out.
Friends of Fright
Terror Toys hosted a meet and greet with C.J Graham, who formerly played Jason Vorhees to treat horror fans in Havasu and give their business more exposure. Ferree says his business doesn't focus on sales during signings, and prefers for the customers to meet their celebrities and check out the store.
Ferree and his wife, Cherice, are also friends with C.J. Graham, and they plan on having Tony Moran, the first unmasked Michael Myers from the first "Halloween" film, to appear at Terror Toys on April 13.
Top Notch Toys
Everything Terror Toys has to offer is sold on sight, aside from a few more expensive action figures, which are now the few online sales that Terror Toys continues. Its biggest items are the 1:1 scale "Good Guy"
"We're pretty unique because we started online and we transitioned into brick-and-mortar with better results."
Terror Toys is now very popular with Havasu residents and the Lake Havasu City community, and it is open from Friday through Saturday from 10 a.m. to 5 p.m. They are located at 2159 McCulloch Blvd. N, No. 5.
To view Terror Toys Facebook Page, click here.
Be sure check out our last young entrepreneurs, the Smash Sisters here:
Young Havasu Entrepreneurs Part II: Hava Smash