Sponsored Content by Becky Maxedon
Ethics and integrity are among the cornerstones of the Better Business Bureau Serving the Pacific Southwest (BBB).
And in addition to guiding local Lake Havasu City businesses to operate and provide customer service ethically. BBB also exposes area students to those basics of good morals and acting with integrity.
To that end, BBB recently awarded its signature Ethical Torch Essay scholarships to high school students in Arizona and a Lake Havasu High School student was awarded first place in the competition.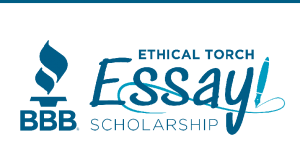 The topic of the essay was "The Importance of Character and Ethics." Held annually, the contest encourages students to write an essay about doing the right thing when they are faced with an ethical dilemma.
This year's scholarship program was sponsored by Swiss America and Valley of the Sun – Camelback Kiwanis Club. The first-place scholarship award is $1,500.
First place winner Dylan Caton shared how integrity is more than a one-time action; it's a way of living.
"People will always make mistakes but owning up to your wrongdoing is what counts. It is never easy to give up a piece of dignity, but making that decision is the most valuable step in leading a life with strong moral principles," said Caton.
"My essay was primarily about an incident last year. I had exaggerated to my friend a story the teacher had told to our class. I was overheard by another student who then told the teacher what I said. I knew that I needed to confront the teacher and apologize to him.
"I wrote the essay because I saw it as an opportunity to show how small decisions can make a large impact. In the moment, it might seem like a difficult choice, but in the end, pushing past what is comfortable builds character. My intention was that it could inspire somebody to make the right choice even in a challenging situation," he said.
Caton has lived in Lake Havasu City since he was 3 years old. He is now 17 and looking toward his future.
"Right now, I am a senior in high school. I am planning to go to a four-year university after graduation, but as of right now, I am not sure where I will be attending. In my free time, I serve on the worship team at my church," he said.
Kryistyna Hook, Director of Media Relations for BBB said, "BBB believes it's never too early to instill ethics and integrity, and we are proud to support students who go the extra mile to do the right thing.
"In high school, students begin to face ethical dilemmas that will impact the rest of their lives, and honorees of this award serve as role models whose moral compass not only guides their actions, but also influences those around them."
At BBB's annual Torch Award for Ethics celebration, where students were honored, Gary Sneed, Desert Financial Credit Union Sr. V.P. and Chief Lending Officer, acknowledged that educational expenses continue to rise for students. They surprised each of the five winners with an additional $1,000 scholarship to help them soar.
To learn more about the Ethical Torch Essay Scholarship program, and to read the winning essays, visit scholarships.bbbcommunity.org.
Applications for next year's scholarship will open on Jan. 1, 2022.