Poké balls were flying as fast as the prizes Friday evening at the Shops at Lake Havasu from 5 to 10:30 p.m., when more than 200 people gathered to play Pokémon Go and battle for possession of the gym between teams Valor, Instinct and Mystic.
Drake Finney, of Hava Geek Cast, sponsored by Frontier, live streamed the event on YouTube and kept the crowds updated on the status of the gym.
"This has been great for friends and family alike … this is what Pokemon Go was meant to be; getting everyone out of the house, having a good time," he said.
A raffle raised $401 for the Western Arizona Humane Society building fund. More than 500 prizes valued at $2,400 in were donated by local businesses.
Dylan Karkruff's ticket was drawn and he picked a Pikachu hat, explaining, "(Because) mostly I just like Pikachu." He said, "My mom caught one. I want one!"
He's on Team Valor. His mom, Daisy Karkruff, purchased $20 worth of tickets to give back. Dylan is a Webelo Scout, so they enjoy giving back. She enjoyed that the event was a "safe place for them to go."
People of all ages came out for the event that included face painting, pictures with Pikachu, and charging stations. Some came just to defend their team.
Margarita Hill came "to make sure Valor didn't win!"
About the Pokémon craze, Ted Samuel said, "I'm loving it, I'm actually really loving it. It's great to see people get out and walk around and actually talk to people. Like, every day you see people walking by, just on their cell phones not even saying anything to anyone, then you just see all these people like 'Hey! What's up man? Catch anything good?' 'Yeah!' I see it all the time down at the bridge and stuff. It's great."
Kristi Anderson said that she's lost 35 pounds since playing Pokémon Go.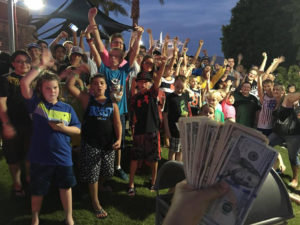 Finney said, "This whole event has blown my socks off. We've got a lot of great people out here. The sponsors are amazing. I've never seen this town just give so much to get the people out here. So it's been a blast."
After the event outside in The Shops courtyard, participants were treated to 120 donated Smallcakes cupcakes and a chance to play Pokemon Revolution on the big screen. The grand prize winner received a Pikachu Build A Bear donated by Susan Warner of New Orleans, LA.
RiverScene would like to thank Women With Willpower, Chamber of Commerce Ambassadors, and local Girl Scouts for volunteering at our event.
Photo Gallery by Rick Powell:
Photo Gallery By Jillian Danielson:
For the latest stories, photos, live videos, news, and events around Lake Havasu, check out our website at riverscenemagazine.com and Facebook page at https://www.facebook.com/riverscenelive