As the Rockabilly Reunion rolled on Saturday, crowds were treated to pretty pinups and awesome hot rods, rat rods and lots of live music.
Pinup Pageant director McKenzie Peck said she loves Rockabilly "because of the vibe you get here. It's like a whole atmosphere that takes you back to that time."
Peck, as pageant director said the contest is her favorite part, but she likes seeing everyone dressed up.
She added, "We also have some great cars here for the car show … hot rods, rat rods and all those fun things. Obviously the really great music all weekend."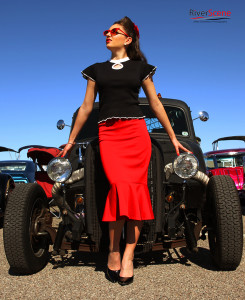 Steven Edwards brought his 1927 Ford Roadster to Rockabilly Reunion.
"The reason I like to come to the rockabilly shows is I like to see all the girls dressed in their skirts and the fact they still look like ladies," Edwards said.
"I like to look at all the vehicles because that's what I'm into … and really there's nothing else to do on a Saturday afternoon in Lake Havasu."
Rockabilly Reunion continues until 9:45 tonight and from 10 a.m. until 7:45 Sunday. Admission is $15 at the gate.