By Nicole Matheson
As Lake Havasu prepares for the 50th anniversary of the famous London Bridge coming to town, RiverScene magazine continues to look to reflect on the past.
Many pioneers have come forward to share their memories of Havasu in the early '70s, including Alex Ross along with his wife Cinda, and daughters Regan and Sasha.
Alex is known for establishing State Farm Insurance in Lake Havasu in 1975, and Cinda was a long-time school teacher at Starline Elementary. Regan, born and raised in Havasu, owns the popular The KAWS shared kitchen workspace.
When they became empty nesters, Alex's parents, Hal and Jennie, lived in Lake Havasu from 1968 to about 1978. He moved to Havasu  in 1974 with Cinda.
Before he moved to Havasu, Alex had the privilege of being his mother's escort to the gala in 1971 celebrating the newly established London Bridge in Havasu. "I came home from college and attended that event. One of the few times I ever wore a tuxedo!" he said. "I was 20 years old and pretty wet behind the ears, so it was all kind of grand. I went where I was pointed! They did it up right. A lot of people, a lot of activity."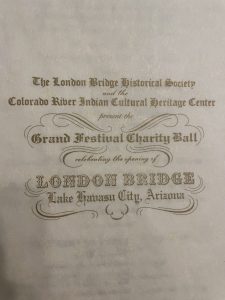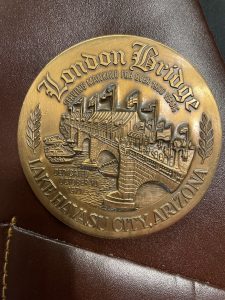 "It was one of the few houses on the golf course at the time," Alex said of his parents' past Havasu home.
"So when McCulloch would invite people over for his celebrity tennis matches and other events, you'd have to have a cocktail hour, so it's like, where do you go? So they would have it at my folks' house. We met some pretty interesting people." Their holiday party would make the newspaper, Regan shares, which like the cocktail parties, included an extensive guest list with plenty of big names, such as Steve Allen, Dean Martin's son Dino and his girlfriend Olivia Hussey, Jack Kramer, and many more.
One of the famous people on the guest list sent his regrets for not being able to attend. The letter has remained as a family treasure.
Alex and Cinda moved to Havasu in 1974, initially living in the Los Lagos Vistas. He described the early town as, "Quiet. We had some pretty good rainstorms back then, and we didn't have any flood control so the water just went wherever it felt like. We had these monsoon storms almost every other day it seemed like back in that time period."
As for entertainment in those days, he remembered, "Going down to the launch ramp and using flash cards to make fun of the boat launches that went awry. Law enforcement ran us off from that!"
When asked about some of the biggest changes in Havasu from the '70s and '80s to now, Regan answered, "Stoplights! There was not a stoplight." Regan has also seen the construction of Thunderbolt Middle School after she and her sister Sasha went to Starline Elementary. "We would walk to school, we could cut across all the dirt lots which you couldn't even do now."
Although there have been many changes to this small community, for the Ross family, it has not lost its charm.
"Couldn't have changed anything if I had to do it over again. Same job, same house, same kids, same wife."