Soroptimists International of Lake Havasu City recently installed its Board of Directors for 2022-2023. The organization also announced its Soroptimists of thew Year. \
Featured Photo: Above  2022-2023 Soroptimists International of Lake Havasu City Board from left: Nancy Bellomy, Recording Secretary; Cristi Newport, President-Elect; Gail Williams, Delegate; Teliza Washington, Delegate; Ann Holmgreen, President; Stephanie Dopp, Director; Koena Tapscott, Assistant Treasurer; Vanessa Liesen, Treasurer; and Patricia Haslam, Correspondence Secretary.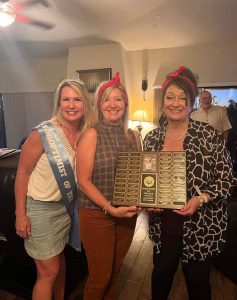 From left, Soroptimist of the Year for 2022 Tina Stocking, Soroptimist of the year for 2021 Koena Tapscott, and Soroptimist President 2020-2022 Stephanie Dopp.