Balloon pilot Andrew Holly and his London, England crew paid a special visit to Lake Havasu City Wednesday. They are attempting to set a  record.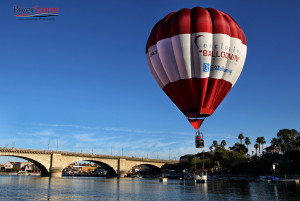 "This is a stopping point on our Guinness Record attempt to see how many states we can fly in over the course of 30 days. And when we were making our initial plans of our route not matter what happened we were coming to see our friends from in Lake Havasu," Holly said.
Hollys also pilots  the Lord Mayor's Balloon, which was part of the 2015 Lake Havasu Balloon Festival.
"We've been out for a week and have had some bad weather. Arizona is state number nine. From here we're headed for California this afternoon and then we'll head north toward Las Vegas and on from there," Holly said.
The entire record attempt is being filmed for posterity. To learn more, visit http://flyeverystate.com.