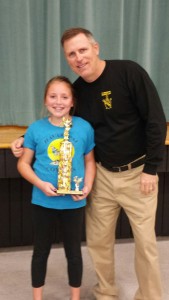 Student Spotlight: Izzy Kistler
[dropcap]R[/dropcap]eading and practicing spelling is what Havasupai Elementary sixth-grader Izzy Kistler does to keep on top of spelling bee skills, and all that studying just paid off. Kistler took second place last year at her school spelling bee competition and this year, she earned the first-place spot.
"She is such a good kid and student," said Kistler's mother, Bre Kistler. "I knew she would do well."
The 12-year-old grew up in Montana before moving to Lake Havasu City with her family. Her favorite part of attending Havasupai is being able to spend time with her friends at school
Kistler said she is excited about winning but admits it was a bit nerve-wracking going into the county-level competition after her win at the school level.
[quote_center]"I had to practice for it almost every day to prepare for it," said Kistler, "I was nervous."[/quote_center]
Although Kistler didn't place at the county level, she is proud to have her trophy from the Havasupai Elementary competition to remind herself of a job well done. She also offered a bit of advice for other students considering entering a spelling bee.
"Just make sure no matter what, you do your best, that's all."
When Kistler is not in class, she enjoys reading on her Kindle reader and enjoying books from the "Mandie" book collection.
---
Do you know someone that would be an exemplary person for RiverScene Magazine to interview and write an article about?
We are looking for nominations for our weekly community student spotlight article. Please use this form to submit your idea to us: Spotlight Nomination Form