By Grace Usher
A mysterious box appeared on 100 block of Lake Havasu Avenue North with the words "Blessing Box" on the front. The box is located on the railing of the wash next to the Fire Station No. 5 and River Cities United Way.
The intention of the box is to be a central donation and receiving box for those in need. The box is unlocked and anyone who is in need may take from the box.
The developers of the box wish to remain anonymous. The Blessing Box is not associated with a nonprofit, church or organization of any kind.
"We wanted to stay away from bureaucracies and service groups," said the developers.
The box has been up for roughly a month and refilled by the developers at least three times.
The contents of the box have found much needed homes on multiple occasions, meaning the box's use is being discovered.
The most consumed category of item in the box has been hygiene products as well as diapers.
For donations, the Blessing Box can hold non-perishable food items and small hygiene products. Donations are accepted at any time of day or night.
"Anything that is not going to go bad in the heat."
The box is 3-feet tall, 2 ½-feet wide, and 1-foot deep. Clothing donations are not recommended because of the small dimensions of the box.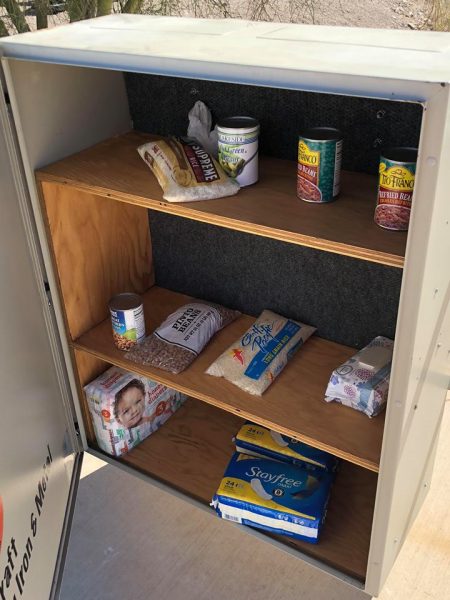 Overall, the construction of the box took two weekends and one day to install.
"It's for someone who is having a tough month and doesn't have something, go see if there is something in there and make your day better."
There is no regulation of the box so the barriers of receiving necessary items are thought to be lessened. There is no stigma, process or paperwork to get what one needs.
The box is currently open for donations and retrievals.
For more information on the Blessing Box, click here.