Rockabilly Reunion coverage sponsored by The A-Team at Coldwell Banker
By Grace Usher
The Rockabilly Reunion is the largest Rockabilly meet-up in Arizona and attracts the creme-de-le-crop of models, rat rod owners, musicians and enthusiasts. Many of those who attend the Reunion thrive in Rockabilly culture all year long.
It's clear upon first glance that the participants of the Rockabilly pin-up lifestyle are meticulous with each detail of their ensemble. From hair to makeup, to outfit coordination, no detail is left to chance, especially when it is competition time.
Ruby Wild, Contestant 6, traveled from Los Angeles for her very first visit to not only Rockabilly Reunion, but Lake Havasu City itself.
"This is one of the best events I have been too," Wild said.
Ruby Wild self-categorized on the cusp of classic Rockabilly and Psycho-billy. She stays light- and -upbeat with the classic style, but plays on the Psycho-billy with her tattoos,  and dark interests, minus the bright hair color.
To get ready for the competition, Wild takes her time to complete her outfit to pin-up standards. She begins by pinning her hair meticulously in place to achieve the 1940's-inspired wave. She plays on her natural curls to give the classic look.
"It's kind of like Doris Mayday and Rita Hayworth"
While her hair sets, she begins the one-hour makeup process. Though her look is sweet and simple, it takes slow work to make sure it stays in place and achieves the desired outcome.
From beginning to end, Ruby Wild says about two hours is key to get pin-up perfect.
Miss Lady Alore, the Ventura, Calif., resident says the process depends on the theme, era and the number of outfit changes.
"Just the prepping and packing my bags the night before. You have to have your standard outfits and always have a back-up, and a back-up if your back-up breaks. It takes at least a solid three hours the night before."
This year's competition included Classic Wear, Swim Suit and Final Pose-off.
When it comes to hair and make up, two hours seems to be the sweet spot for prep time among the girls.
Miss Peets, Contestant No. 3, hails from Tempe. Peets does her own makeup and takes at least an hour to ensure every lash, line and the color is perfect. For hair, she used her team to create stunning victory rolls. With other details, total prep time borders two hours.
She resonates with the new-age rockabilly incorporating the sweet-heart style with her tattoos and a slight edge.
"The hardest part about getting ready is nothing physical but mentally making sure everything fits together well. There are so many patterns and colors."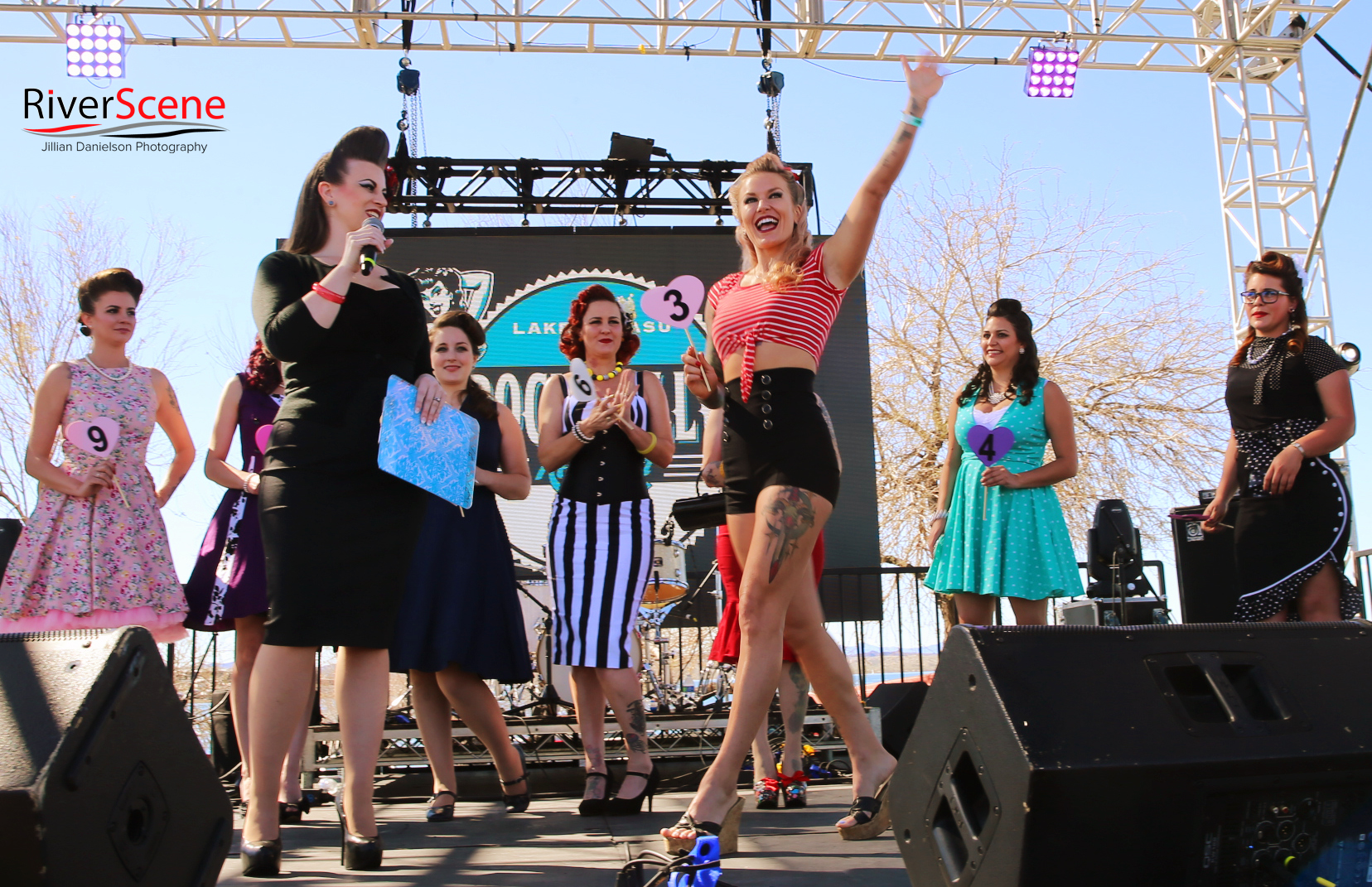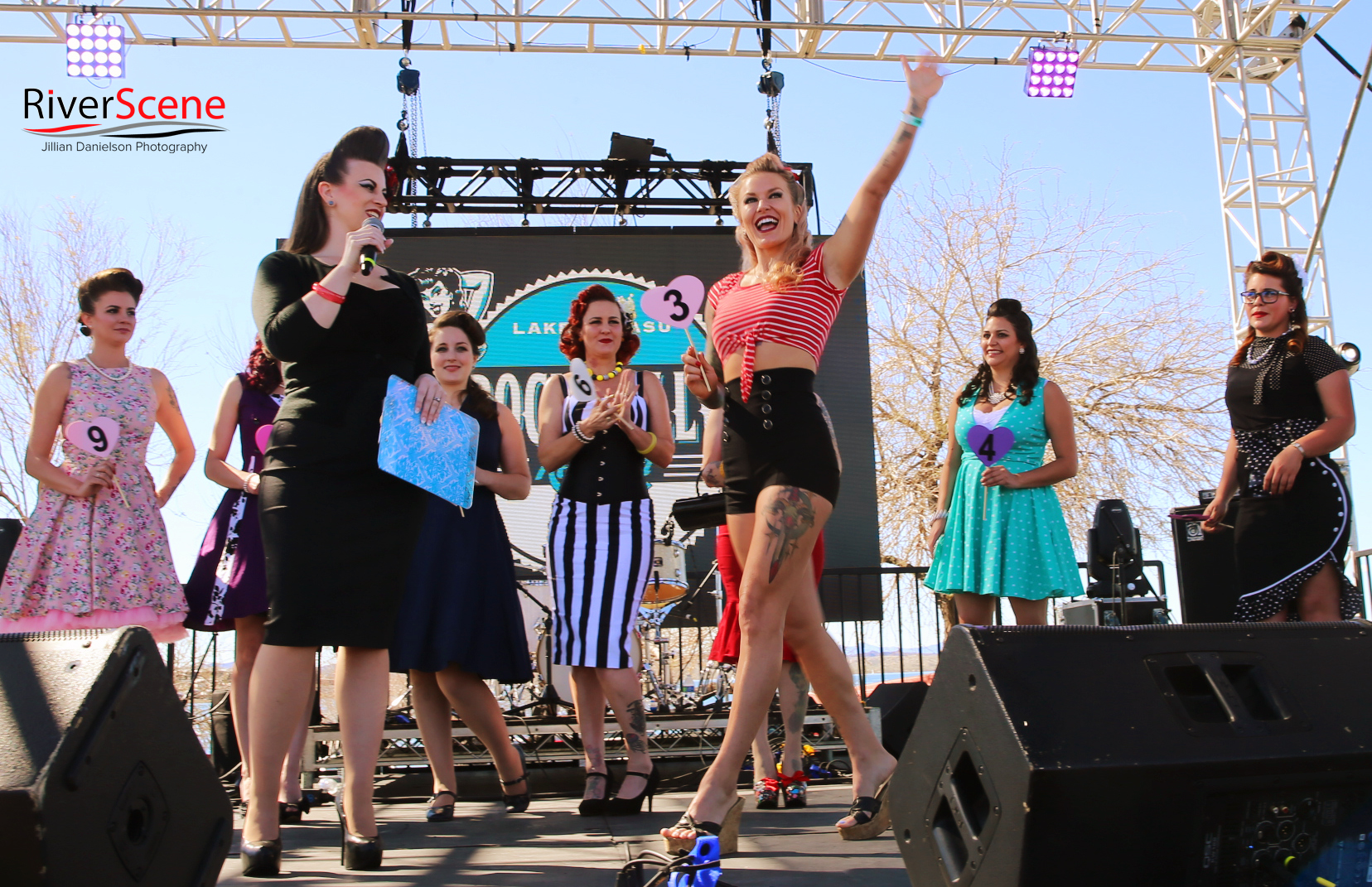 For those just entering the pin-up culture, Miss Peets recommends these must-haves: Bandanas; bows/hairpins and a solid pair of wedges.
The competition results will be announced Sunday at 3 p.m. Tickets for Sunday entrance are available at the main gate.
Check out the RiverScene Magazine Facebook page for the live competition results.