National Weather Service Press Release:
Monsoon moisture is expected to push back into portions of Mohave, San Bernardino, Clark, and Lincoln counties Thursday and Friday, bringing the chance for showers and thunderstorms. Thunderstorms will be possible beginning Thursday night lasting through Friday evening. In addition to the flash flooding threat, some storms may be capable of damaging winds and hail.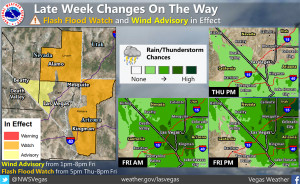 Thursday:
· Increasing chances for showers/thunderstorms across southern & eastern San Bernardino County, southern and central Mohave County and extreme southern Clark County Thursday afternoon.
· Rainfall rates of 1.00-1.50″ per hour possible.
· Storm motion of over 20 mph should limit flash flood threat to terrain or repeat thunderstorm development over a given area in Mohave County later in the evening.
Thursday Night:
· Chances for showers and thunderstorms spread northward into most of Clark and the rest of Mohave County.
· The best chance for thunderstorms in the Las Vegas Valley occurs from 11pm-5am.
· Rainfall rates of 1.00-1.50″ per hour possible.
· Thunderstorms, especially along the Colorado River Valley from Searchlight southward to Lake Havasu City and Vidal Junction, will be capable of producing locally gusty winds.
Friday:
· More vigorous thunderstorms possible Friday, especially across eastern Lincoln, northeast Clark, and Mohave counties. Storms will have the potential to produce damaging winds and hail in addition to flooding. Chances for storms will end rapidly from west to east through the day. By 5pm storms will likely be limited mainly to Mohave and Lincoln Counties.
· Strong winds and low relative humidity could create critical fire conditions Friday afternoon through the evening for southern Nye County. Rainfall rates of 1.00-1.50″ per hour possible.