Veteran Spotlight: Dave Schwartzkopf
Dave Schwartzkopf is a motorcycle-riding Army veteran and proud, longtime Lake Havasu City resident. Along with his wife, Karen Schwartzkopf, he can be seen welcoming home a soldier with the American Legion Riders (ALR) or paying his respects to a fallen soldier with the Patriot Guard Riders (PRG).
Dave served in the military from 1965 to 1967, attending boot camp in Ft. Carson, Colo. He was an Army sergeant who spent 13 months at the North Korean/South Korean border during the Vietnam War. "There were so many things that went on; some of it I can talk about, some of it I can't," he said. " It was just a privilege. I actually enjoyed being in the military." Dave said those considering joining the military should "give it a lot of thought because it's a big commitment." He also advised, "Be sincere and go in wholeheartedly. The rewards from being in the military are phenomenal."
After his military career, Dave became a California Highway Patrol officer. He feels the Army prepared him for his 29-year career with the CHP by instilling three very important values: discipline, responsibility and, most importantly, respect."Being a sergeant, you're responsible for your peers and making sure they have everything they need and want," Dave said. "What it did for me (serving in the military), in my opinion, is it allowed me to become a better person."
There is no doubt that respect is a big part of Dave and Karen's life; both are ride captains for American Legion Riders, escorting soldiers who arrive home from deployment and providing flag line ceremonies at veteran funerals with the Patriot Guard Riders. They have been members of both clubs, as well as The Eagles, for no less than 10 years.
The veteran said that one of the emotional hardships from being involved with ALR and PFR is losing friends with whom he had longtime relationships. The Schwartzkopfs moved to Lake Havasu City in 1999, but that's not where their first ties to the city began. Dave worked for McCulloch Corp., as an expediter, and he and Karen visited Lake Havasu City before the London Bridge was brought from England.
Karen remembered her first impression of Lake Havasu during the town's early days. "All this sand was blowing around and I'm looking at Dave and I said 'Nobody is going to live here.'" Little did she know, she and her husband would later become residents of the town and fall in love with the growing community.Both Dave and Karen said they love living in Lake Havasu City because of the close bonds they have made. "The friendships last forever," Karen said. Dave said he is also very proud of Lake Havasu for its unwavering support for veterans and other community members.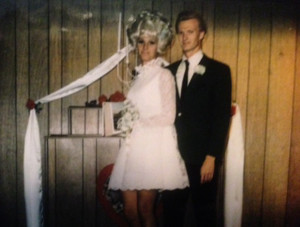 "The people are gracious to you. Both of us have been ill and the response from this community – through calls, flowers, cards and letters – is just unbelievable," Dave said.
Dave may be inspired by the Lake Havasu City community, but it's apparent that he has been an inspiration to his sons and daughters; five of his 11 children are also in the military. His children Patricia, Mary, Patrick and Keri served in the Army and Dave's son, Mike, served as a Marine. Karen said, "He is a great husband and an awesome father."
She added that she was very proud to watch their sons and daughters follow in his footsteps and join the military. Dave shared similar sentiments about his wife."God blessed me with my wife and I mean that sincerely. I had some medical issues and she stood behind me 100 percent – and not only through that, but through life."
When Dave and Karen aren't participating in community events, they enjoy spending time in Montana and with their 28 grandchildren and five great-grandchildren. They can also be seen taking part in the Sturgis Motorcycle Rally where they have made friends from all over the nation.
---
Do you know someone that would be an exemplary person for RiverScene Magazine to interview and write an article about?
We are looking for nominations for our weekly veteran community spotlight articles. Please use this form to submit your idea to us: Spotlight Nomination Form