He had recently graduated from William Tennent High School in Warminster, Pa., and knew he would be drafted any day, so John Grimes and six of his friends enlisted so they might at least have a chance to get a better job in the Army than infantry on the front lines. In was 1966 and the war in Vietnam was raging.
Grimes has been known as "Dirt" to almost everyone since he was in the eighth grade. Many of his friends don't even know his real name. He was always teased in school about his name, which classmates had changed to "Grit"— everyone was given a nickname. Then one day, a girl got angry with him and said, "You're nothing but dirt!" And that was his name for the rest of his life.
Some of his friends enlisted in the Marines, and some in the Air Force. John chose the Army. He was tall and skinny — just 113 pounds — when he enlisted, and he was sent to basic training at Ft. Jackson, S.C., and then to Artillery (towed) school. A week after graduating, he was sent to Aberdeen Proving Grounds in Maryland and ended up in a cavalry unit, which was sent to Germany. Since there wasn't even any towed artillery in Germany, he was cross-trained on tanks (45G) and mechanized artillery. He learned to repair small arms and eventually almost every kind of artillery and weapons. He was promoted to E4 while in Germany and was sent to Vietnam in July 1967 with the 1st Infantry — the Big Red One — attached to the 701st Maintenance Battalion, Delta Company.
One day after arriving in Germany, Grimes was told he would be perfect for the contact team, and his team of seven was stationed at forward positions to repair weaponry. He became so adept at repairing any kind of weapon that he was flown by helicopter from place to place to repair machine guns, small arms, and any damaged weapons. He eventually also became a gunner on a VTR M55 tank, which is still used today.
At one point, Grimes spent five months based at an air strip on a rubber plantation, where they were overrun three times by the North Vietnamese Army. Grimes had to stop repairing guns to help load them so the unit could fire back.
He was sent to Quon Lai, Phuc Vinh, and many other locations wherever he was needed to repair weapons. He recalls one day at the end of January 1968 when he was on R&R in Vung Tau. The Tet Offensive had just begun and the city was attacked by the Vietcong.
One of Grimes' clearest memories of his time in Vietnam is the day in December 1967 he came face to face with Bob Hope, who was there to entertain the troops. He was ready to go to bed one night when his Sergeant told him Bob Hope was not too far away and he should go watch the show. He hopped on a helicopter and flew to Lai Khe. At one point, Bob Hope walked right up to Grimes to say hello, and Grimes could only marvel at how old Hope was. Grimes was only 19 years old at the time and he thought to himself, "This guy is OLD!" Hope was in his 60s then. Today the incident serves to remind Grimes of just how young he and most of the troops were when they were in Vietnam.
Grimes was in Vietnam for one year and one day. When he returned to the states, he was sent to Ft. Knox to school for a month for training on the M551 Sheridan tank. He didn't understand why since he would be out of the service in eight months.
Although many other soldiers returned home from Vietnam to jeers, spitting, and disrespectful treatment, Grimes says he didn't experience that. But he was completely ignored, which in some ways felt even worse. He stayed home for a month but was dismayed because even his family ignored him and his experience in Vietnam. So he left, drove aimlessly around the U.S. for a month or two, and finally settled in Los Angeles. He married, had a son and daughter, and worked as a truck mechanic from 1969 to 1984, and as a construction superintendent from 1985 to 1999. He later had another son and raised two stepchildren as well.
As do many other servicemen, Grimes rarely talked about his war experiences for years after he came home. But one day in 1994, his son said he wanted to go to The Wall in Washington, D.C. with him. Grimes had never visited The Wall, and the experience made an enormous impact on him. He describes looking at the black granite wall with the more than 58,000 names on it and seeing his own reflection. He was looking at "an old man."
Yet the men whose names were on The Wall were still 18 and 19. "They will always be 18 or 19," Grimes said. "They never had the chance to grow old like me."
Many tears are shed at The Wall. "There's a saying," Grimes added, "that the tears shed at The Wall are tears of joy because The Wall is teaching us to separate the warrior from the war."
His first visit to The Wall changed him forever; it made him more open about his experience in Vietnam. In 2001, he began attending the annual reunions of the Big Red One, 1st Infantry. He hasn't missed a year and looks forward to the reunion every year in different parts of the U.S.
His life took another critical turn in 2005, when he ran into a fellow biker named "Pegleg" at a restaurant in California. Pegleg told him about Run For The Wall, and that he needed to join the thousands of other Vietnam veterans on their annual motorcycle ride to Washington, D.C., and The Wall. It was a healing journey, Pegleg told Grimes, and a chance to raise awareness of the thousands of MIAs and POWs whose remains have not yet been brought home from various wars and conflicts.
This was right up Grimes' alley, because he had always loved riding his motorcycle. So in 2006, he rode to California to start the journey with RFTW. He hasn't missed a year since, and has supported RFTW by being a Platoon Leader, an Assistant Platoon Leader, a tail gunner and an Ambassador, thanking people who stand on overpasses and along roads to show their support for veterans with RFTW.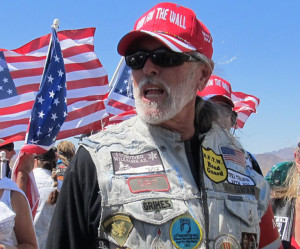 Along with Run for The Wall, Grimes is also a member of Vietnam Veterans of America Chapter 975, Disabled American Veterans, and Patriot Guard Riders. You'll see him at Welcome Home missions and bike runs and patriotic celebrations in Lake Havasu City, but you may not see him around town for months at a time because he has wanderlust and rides all over America to visit friends and his children and 11 grandchildren.
Grimes has no regrets about serving in Vietnam, saying. "I've long ago made peace with myself and what happened to me there."