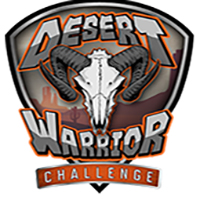 Information from Desert Warrior Challenge Facebook Page:
Desert Warrior Challenge is an obstacle trail with varying degrees of difficulties for all experience levels. This challenge was created not only to push your bodies and minds to the max but also promote social awareness. Desert Warrior Challenge is committed to donating 100% of proceeds to the Only Orchids Charity.
Are YOU ready to unleash your INNER WARRIOR and be apart of a great cause?
You will start out on your first of 2 "5K" loops through the beautiful and treacherous "Sara's Crack Trail." Don't be fooled by its beauty this trail is tough! After finishing this loop, you'll end up back near the stadium before you embark on your next challenge… "Friendly Trail"… however, don't let the name fool you as you will come upon 3 different checkpoint challenges to test your endurance as well as your psyche. After finishing your second "5K" loop your legs will be shaking, and your heart will be pounding and all that is left is for YOU to conquer is the obstacle stadium. The Desert Warrior Challenge was specially designed for all experience levels from advanced athletes to the beginner. You will have 3 different experience levels to choose from.
Nov 10th: Friday
5- 7 pm – Warrior Check-in
5-10 pm – Bonfire Party with live music by Artslakehavasu.com Songwriter of the Year Cameron Marin
Nov 11th: Saturday
8-9 am – Late Check-in
10 am – 1st Heat of The Desert Warrior Challenge 5k – 10k Loops with Obstacle Course Race
2 pm – The Only Orchids Charity Group PARTY! Live music from Cameron Marin, Sidewynder Band, and Headliner Con Bro Chill goes on at 7 PM!
Beer by Mudshark Brewing Company and Romer Beverage Cocktails provided by ChaBones Steakhouse and Tapas Bar. Food from Paleo To Go, Inc and Mike Washington grillin as much food as you can handle!
BUY TICKETS NOW before they go UP: http://www.desertwarriorchallenge.org/
Details
Date:
November 11, 2017
Time:
08:00 am - 11:00 pm
Event Categories:
Website:
To Date:
November 11, 2017
Organizer:
Only Orchids Charity