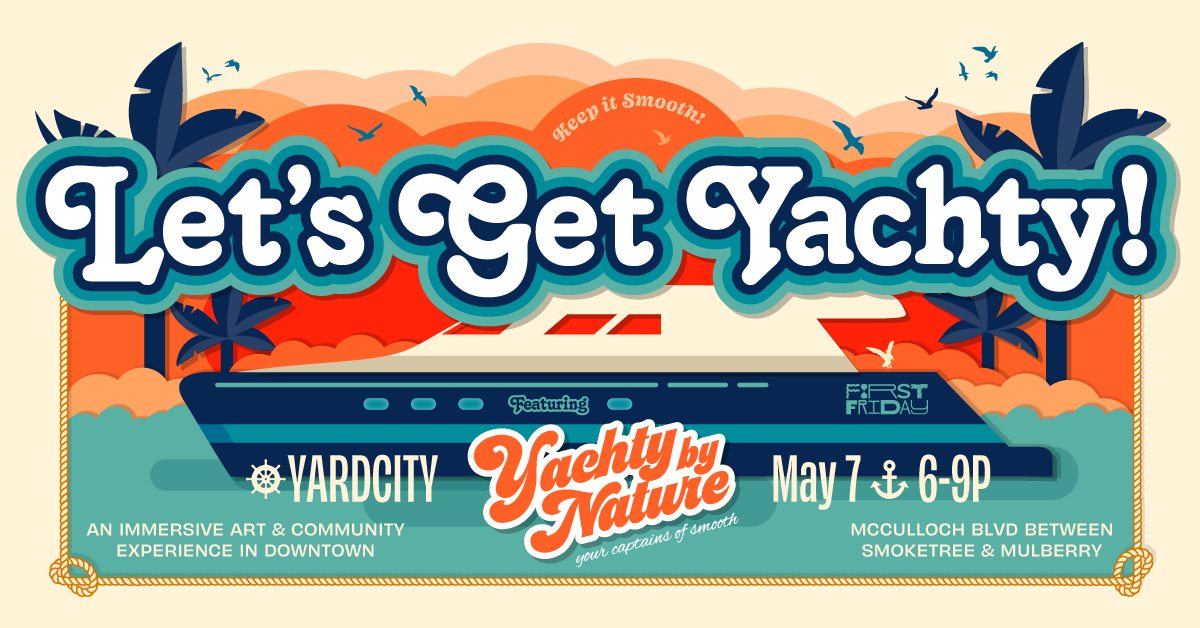 From the First Friday Facebook Page:
Let's set sail for summer! First Friday returns to Downtown Lake Havasu on May 7, 6-9P. All hands are on deck for the final First Friday of this season. (It returns September 2021)
Gather your shipmates for a night of music, art, food and culture on McCulloch Blvd. The main circuit runs between Smoketree and Mulberry Ave. The hub of First Friday is YardCity (2101 McCulloch Blvd, next to Small Cakes)
MUSIC
 Anderson Toyota Stage @ YardCity | Yachty By Nature "Your Captains of Smoooooth", are taking you on a sunset cruise through your favorite 70's and 80's guilty pleasures from Hall & Oates, Michael McDonald, Toto, Steely Dan and so much more. Come aboard for smooth grooves with Captain Carl, Scotty McYachty, Big Wave Dave, Courtney Cruise, Pacific Rim, and Ben Shreddin' from 6-9P. Pop the champagne, your smooth grooves await.
 Legendz | TBA
 Fugs | TBA
 Flying X | TBA
 McKee's | TBA
 Jersey's | TBA
 LH Cigars | TBA
BITES & DRINKS
 Pop Up | Ohana Poke (YardCity)
 Ft Beertender | Lauren Cummiford of Fugs (YardCity)
She'll be serving boozie slushies, wine and local brews from Mudshark and College Street from the vintage beer trailer.
 KAWS | Grapes N Grains; La Carcacha; Mad Lobster; Oso's Smokehouse
ART
 Ft Artist | Rachel Kaiser
 Shop 30+ Local Artists along McCulloch Blvd between Querio and Scott Dr.
 Our Place | Found object sculpture series "The Wizard from Oz"
Details
Date:
May 07, 2021
Time:
06:00 pm - 09:00 pm
Event Categories:
Website:
To Date:
May 07, 2021
Organizer:
First Friday Lake Havasu