The Women's Network Exchange of Arizona is an organization dedicated to helping women in La Paz County and Mohave County further their education by providing scholarships.
WNEA hosts two events and the Annual Shopping Extravaganza to raise funds for the scholarship program.
Through an application process, WNEA provides scholarships to local women who need extra help in achieving personal and career goals and women who are working to advance their careers through continued education, and women who are returning to the work force.
President Janet Cruz presided over the June 2 scholarship event at Quality Inn and Suites, where past scholarship recipients Kimberly Krueger (2019) and Lily Perez (2021) were keynote speakers.
Three $1,500 WNEA awards were presented to three local women – Nereyda Robertson (pursuing her Masters in Spanish), Andranique Thompson and Candie Caviness.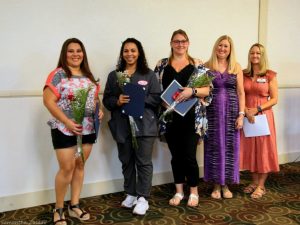 WNEA President, Janet Cruz said, "WNEA is always happy to help women in their educational and career goals with a scholarship.
"Our scholarships not only provide financial assistance, but also mentoring by WNEA members through an honorary membership. Our Scholarship committee read through many applications and selected three amazing recipients I am so happy for them."
Andranique Thompson is enrolled in the radiology program at Mohave Community College. "I am so grateful for the for this scholarship opportunity. I truly cannot express what this means to my family and I. I am looking forward to my journey and now growing within this wonderful organization," she said.
Scholarship recipient Candie Caviness, who is enrolled in the nursing program at Mohave Community College, said she was thankful for the opportunity. "I feel blessed to have received this award."
For more information, visit www.wnea.org.