By Becky Maxedon
The wait is almost over. The Havasu Balloon Festival and Fair is set to begin Thursday at noon and to run through Sunday at 3 p.m., at Lake Havasu Windsor 4, Lake Havasu State Park.
There are some things Festival goers should know before they arrive to ensure a pleasurable experience.
General admission is $20 and is good for all four days. Children 10 and under are admitted free.
Weather permitting, each day beginning on Friday will begin with a morning mass ascension when the balloons rise over Lake Havasu City in the way that hot-air balloons alone do. Each day, including Thursday, there will be an afternoon mass ascension, weather permitting.
There are vendors, as well as a carnival and so many more events surrounding the Festival including live music and the night glow – "Glowin' On The River," which is a beautiful end to each day of the Festival.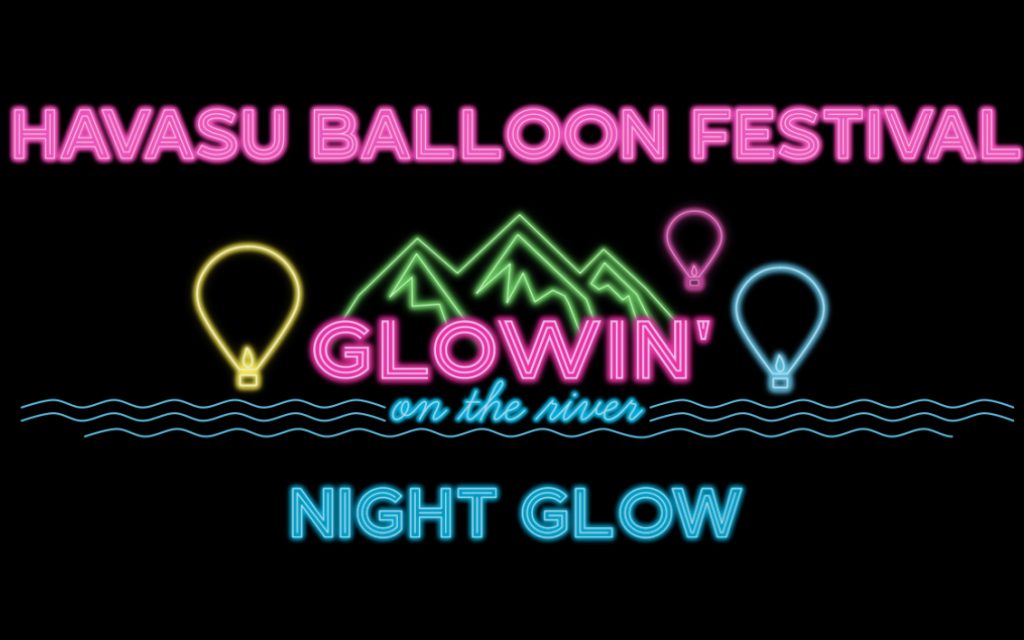 High school students will be on hand selling LED glasses, glow sticks, glow-in-the-dark balloon fest T-shirts and LED bracelets. All profits go back into the Havasu Balloon Fest charity funding.
Tickets for the carnival are purchased separately and prices vary depending upon the number of tickets purchased or the duration of the stay.
After 7 p.m., the Festival is free to enter. It closes at 10:30 p.m.
No pets, no drones and no coolers are allowed in the event grounds.
If you are a kayaker, boater or paddleboarder in the Bridgewater Channel to get up close to the balloons over the London Bridge, please use caution and stay far back from balloons as possible. The balloon pilots sometimes do a "splash and dash" where they dip in the water and they need plenty of room for everyone's safety.
PARKING
There is an express shuttle service directly to the main entrance of the balloon festival. The shuttle service is free and will pick up and drop off at the main gate.
Off-site parking will be available from (4) convenient parking areas. See the parking map.
The buses will run from Thursday, noon-10 p.m., Friday and Saturday 6 a.m. to 10 p.m., Sunday 6 a.m.-noon. Please note the Sunday Swap Meet will be held as usual across from our event, so plan on parking in one of the named lots pictured on the map.
The English Village and Casino Parking areas are not part of our designated parking areas, and we want to be good neighbors, so please do not park in those areas.
Public parking will be along London Bridge Road in the London Bridge Plaza (Sunday Swap Meet area). Please be considerate of the businesses within that shopping area as they have customers that will need access to those businesses. Do not leave a vehicle overnight in the public parking across from Windsor 4, as it will be towed.
Lot "A" – (Red) Pima Wash Across from Lake Havasu Dialysis – 2353 Mesquite Ave Lot "B" – (Blue) Mohave Community College (MCC) parking lot – 1961 W. Acoma Lot "C" – (Green) Mohave Community College Lake Havasu High School football field parking.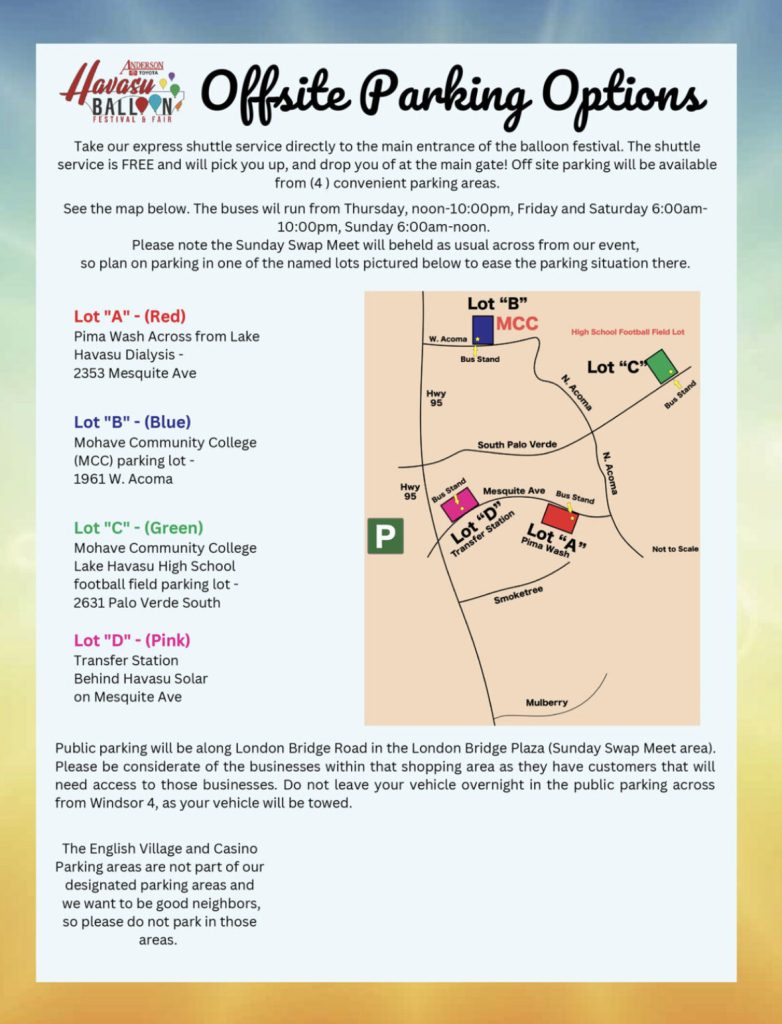 For more information, please see the RiverScene Magazine 2023 Havasu Balloon Festival Information Video on the RiverScene YouTube channel by clicking here: https://youtu.be/qah6SMb5aqM
Anderson Toyota is the title partner of the Festival, along with others.