By Janet Cruz
The annual A Taste of Havasu fundraising event hosted by the K-12 Foundation and sponsored by Anderson Toyota, returns Oct. 19, at Sara Park Rodeo Grounds. There will be food vendors and sponsors offering bites to all who attend for a great cause. While attendees get a Taste of Havasu, music will be provided by Kevin Jackson and The Midnight Sun as well.
The K-12 Foundation  is a nonprofit that was founded in 2003, with the mission to support all schools, teachers, staff and students within the Lake Havasu Unified School District. When this organization became incorporated, there were no other private schools in Lake Havasu.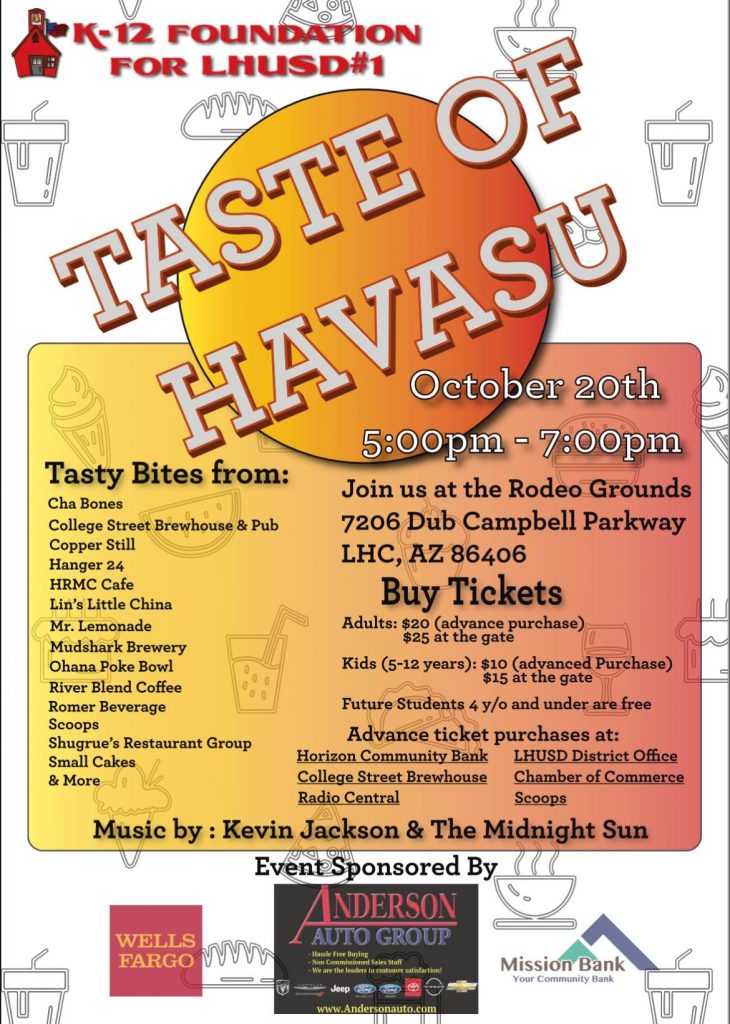 Since that time, the organization has adopted a revision to their mission to support other organizations and educational facilities through a pass-thru system where they can assist them in their fundraising efforts and disburse funds for specific educational programs such as the ASU Stem programs at the college, Rachel's Challenge (program to educate children on anti-bullying, being kind to others, and recognizing ways to improve your environment) for all schools in the city.
"The Taste of Havasu supports schools, teachers and their students," said volunteer and past chair of K-12 Foundation, Monica Hall. "The board members, volunteers and the community come together for this event," she added.
Another great event that raises money in  Lake Havasu is the Run to the Sun event, hosted by the Relics and Rods Car Club  also on Oct. 19.
In 1975, The Relics and Rods Car Club was established with only a few residents who had an interest in old cars. During the first few years, the club met at various locations around town including Kings Clipper Barber Shop, Wings Best Western Motel, the Chamber of Commerce. Later in 1978, club members decided to put on a car show at the London Bridge Shopping Center's parking lot. The car show was eventually moved to October and the name was changed to Run to the Sun with as many as 1,000 vehicles displayed at the event.
"Some nonprofits that benefit from the proceeds include Pregnancy Care, New Horizons, Mile markers, Meals on Wheels, Hospice of Havasu, Community Health Foundation and many more," said Chairman of the Charity Committee, Relics and Rods Car Club Kathy Stiller. "We have given away over $ 250,000 each year."
The 44th Annual Run to the Sun event kicks off with a kick-off dinner, followed by a car show and award ceremony Oct. 23. Tickets for Show and Shine are $10 for a two-day pass.
For more information on any of these events, visit the RiverScene Magazine event calendar, or  for complete Run to the Sun event information; visit https://relicsandrods.com and https://riverscenemagazine.com/events/run-to-the-sun-3/ 
A Taste of Havasu will take place at Sara Park Rodeo Grounds at 7206 Dub Campbell Parkway. Presale Tickets are $20. Children ages 12 and under are $10. Tickets day of the event at the gate are $25 for adults and $15 for children.
Tickets can be purchased at Foothills Bank, Scoops, College Street Brewhouse and Lake Havasu Unified School District office. For more information, you may also email the K-12 Foundation at k12foundationinfo@gmail.com.