When summer temperatures rise in Lake Havasu, parents search high and low for things to do indoors. Here are just a few activities that RiverScene has found for kids to do.
Mohave County Library:
*Toddler Story Time, ages 2-5years is Wednesday, June 8, 2016, 10 – 10:30am.
*Read With Pets: Friday, June 10, 2016, 1 – 2pm. Have fun reading with Pet Partners of Havasu's trained therapy animals
*Teen Zone Hours:
T-Zone Hours
Mondays 2:00 – 5:30
Tuesdays 2:00 – 7:30
Wednesdays 2:00 – 5:30
Thursdays 2:00 – 7:30
Fridays 1:00 – 4:30
Saturdays 1:00 – 4:30
Mohave County Library location: Lake Havasu City Branch / 928-453-0718 / 1770 N. McCulloch Blvd – Lake Havasu City, AZ 86403
website: mohavecountylibrary.info
THE LAKE HAVASU MUSEUM OF HISTORY

Summer Fun For Kids
This center exhibit offers a cool place for kids to have fun while exploring the wonders of the Lake Havasu City area. There are archaeology experiments. Kids can adopt pet rocks.
The "EyeClops" is a new attraction that lets kids get up close and personal with all sorts of
things and project the images on a TV screen.
The Lake Havasu Museum of History is located at 320 London Bridge Road. Hours of operation are Tuesday-Saturday from 10 a.m.-2 p.m. Call 928-854-4938 for more information. Visit www.havasumuseum.com.
HAVASU LANES:
Kids Bowl Free Program under age 15, to sign up your child, visit https://www.kidsbowlfree.com/center.php?alley_id=124
Free Kids Movies:

Babysitting Classes For Teens:
Babysitting classes are held at Fire Station #1. For further information on registration, contact Gina at 928-855-3609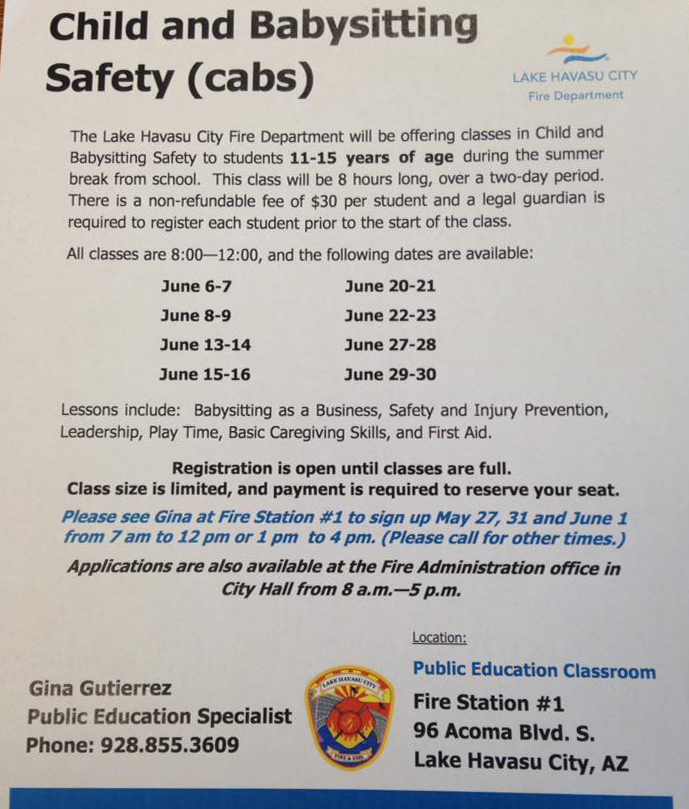 There are two splash pads in Lake Havasu. One is located in front of Star Cinemas at The Shops, and another is on Mesquite Avenue behind Springberg-McAndrew Park. To activate the splash pad on Mesquite, press the button on the pole.