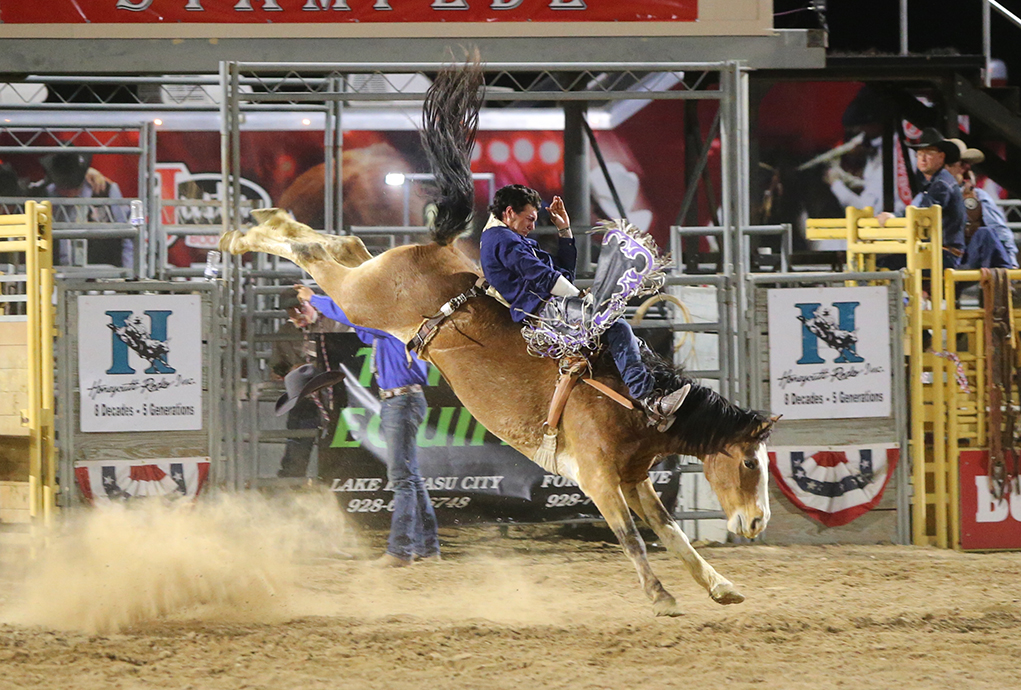 Featured
Competition in the Havasu Stampede continues today at Havasu Rodeo Grounds in SARA Park. Top cowboys and cowgirls in the sport of professional rodeo are competing in seven major events of rodeo (bareback riding, steer wrestling, tie-down roping, saddle bronc riding, team roping, barrel racing and...
Read More
---
Community News
By Becky Maxedon The annual Delbert Days and Grand Canyon Rodeo this weekend is sure to please all the cowboys and cowgirls in the Lake Havasu City area. And the kid-favorite calf and mutton bustin' events kick off Saturday with registration at 10 a.m. Riding begins at 11. The age limit for ...
Read More
---
Events
Rodeo event coverage sponsored by Big O Tires Lake Havasu  By Nicole Matheson The great fun of rodeo is back in action in Lake Havasu City this weekend when the Grand Canyon Professional Rodeo Assn., and Delbert Days saddles up to bring entertainment and action to the tri-state area. GCPRA...
Read More
---
Coverage
By Grace Usher Time to pack up the steers and saddles as the 2019 Little Delbert Days and Rodeo comes to an end. With a fun-filled weekend inspired by the times of the Wild West, many competitors participated but only a few were able to make it to the top. Here are the winners of the weekendâ...
Read More
---
Coverage
By Grace Usher Rodeo weekend is full of Western inspired activities for all ages to enjoy. Some may say the cutest time of the weekend is the mornings when the youngest cowboys and cowgirls are featured: Little Delbert Days. For the last 10 years, the youngins have put on their boots, put on t...
Read More
---